Looking Back on Our Last Day at Rum Festival and Nassau, Bahamas
Before finishing up with our reviews from Aruba, we thought we'd mix things up a bit by taking one last look at our earlier trek to Nassau, Bahamas for its first ever Rum Festival. Enjoy!
Our last day in Nassau was spent enjoying the city's food, history, culture, music and of course rum. This was day two of Festival Rum Bahamas and, unfortunately, our last one on the island!
Inspired by the theme that permeated Festival Rum Bahamas, we started our day off with a pirate adventure. Pirates of Nassau was a mere stone's throw from the British Colonial Hilton (click here for our review). Outside, we were greeted by a pirate trying his best to be menacing. He provided us with a brief but interesting introduction to the history of piracy and the museum we were about to enter. Inside, we were convincingly transported back to the golden age of pirates through scenes depicting both its harshness and the romanticized versions glorified by Hollywood. The piece de resistance was a life-sized pirate ship replica docked alongside a harbor.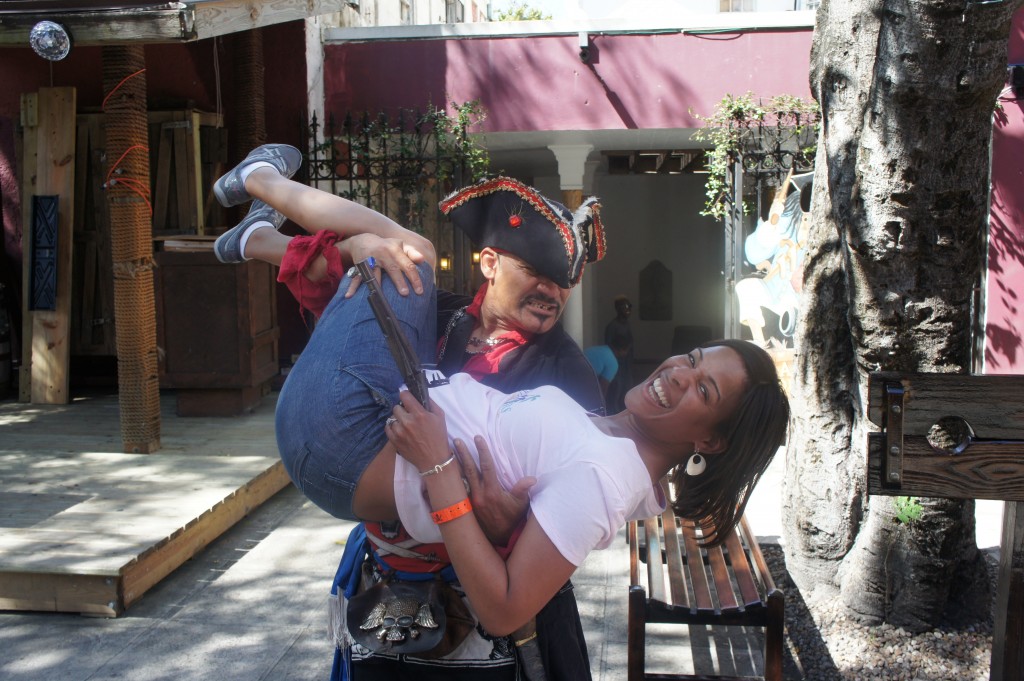 Pirates of Nassau was just a stone's throw away from the British Colonial Hilton and literally swept Passionfruit Sista off her feet!
From there, we set off on our trek to Fort Charlotte. Along the way, we made two pit stops. The first was at Junkanoo Beach, a lovely strip that buzzed with sun worshippers enjoying the white sand, crystal blue water and colorful cluster of locally owned food and drink stands. We sampled an icy pina colada from Marshalls World Famous Fresh Fruits. Our second stop was Da Fish Fry where Twin Brother's Restaurant served up a heaping mound of one of the most delightful conch salads we've tried so far. This light lunch was just the boost we needed to reach our destination.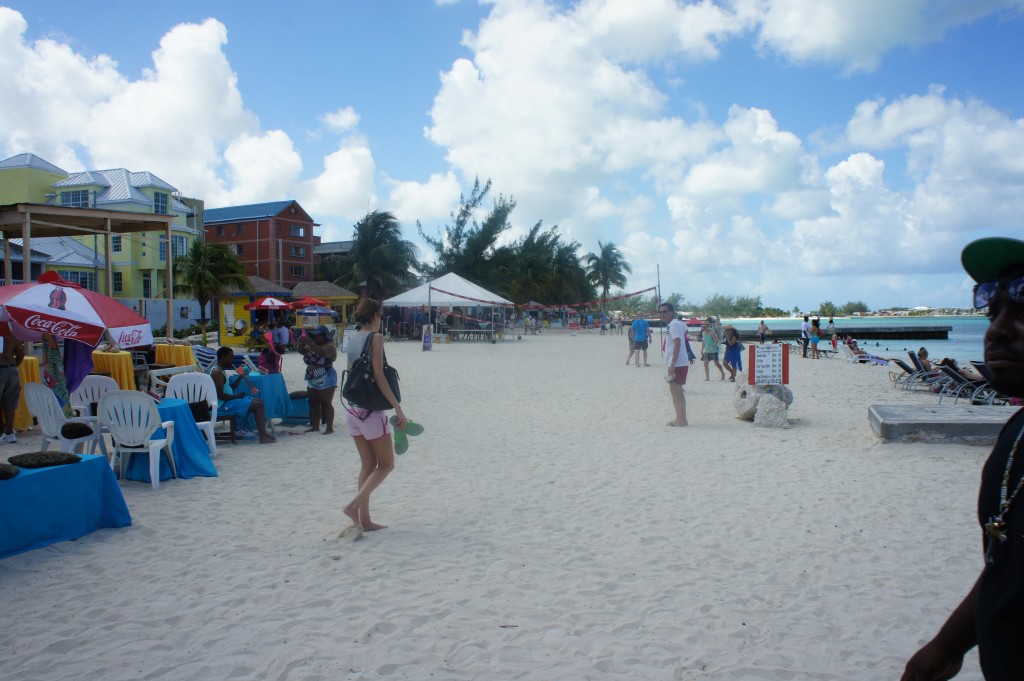 Here is the scene from popular Junkanoo Beach…
…where we sampled the coconuts and an overflowing pina colada from Marshalls World Famous Fresh Fruits.
This refreshing mound of tropical conch salad (fresh conch, onions, peppers, tomatoes, pineapple , mango and pears) from Twin Brothers at Da Fish Fry rounded out the perfect lunch to fuel our trek to the rum festival
Finally, we reached our destination at Fort Charlotte for day two of Festival Rum Bahamas 2014. It was an uncharacteristically warm day but very fitting for this sizzling event. The well-planned itinerary included a variety of presentations on the history of rum and the Bahamas, rum-in-food demonstrations, a mixology competition, knife throwers, jugglers, stilt walkers, Bahamian bands, and, of course, rum tastings.
Promotional signs lined Fort Charlotte's walls and motivated us to reach the rum festival as quickly as possible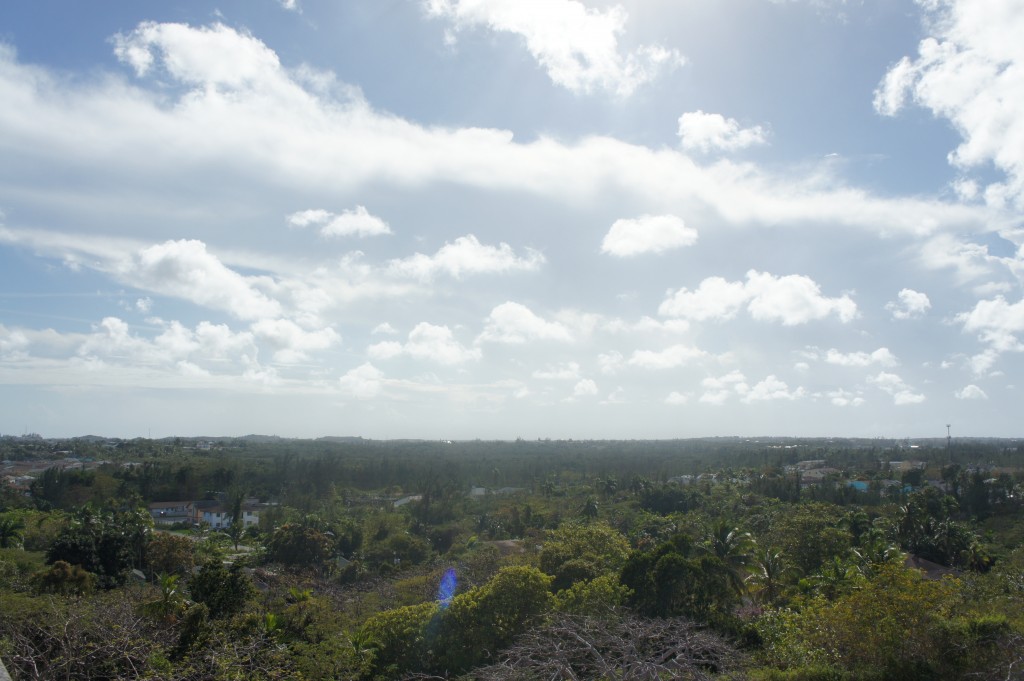 Upon reaching our destination, we were just as mesmerized by the daytime view of Nassau from Fort Charlotte as we were the previous night.
We welcomed the jolly pirate theme with a smile once again…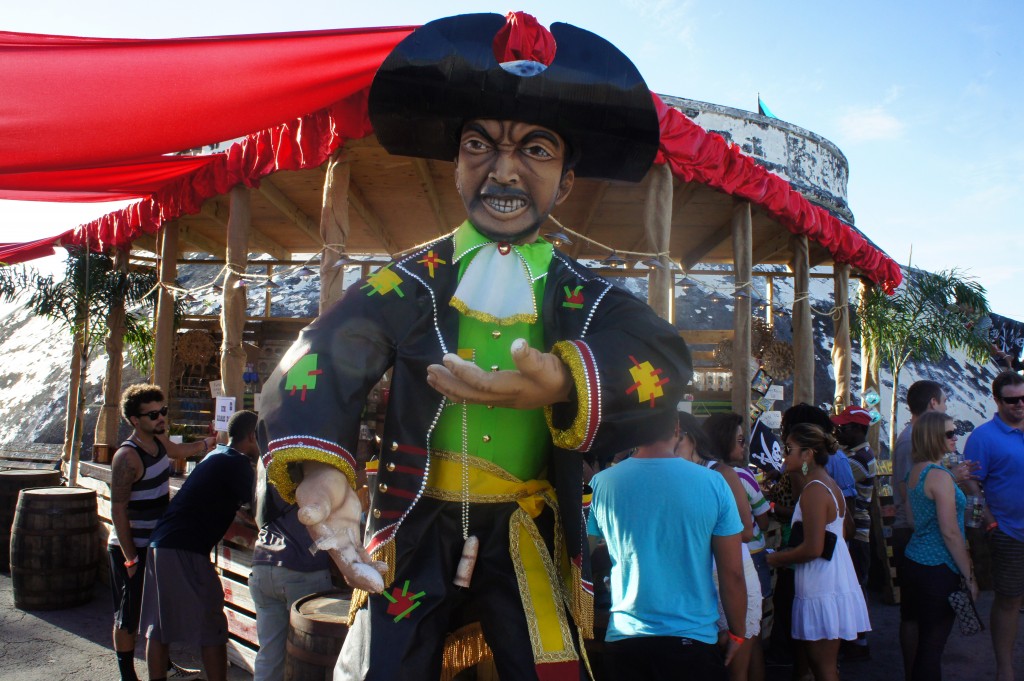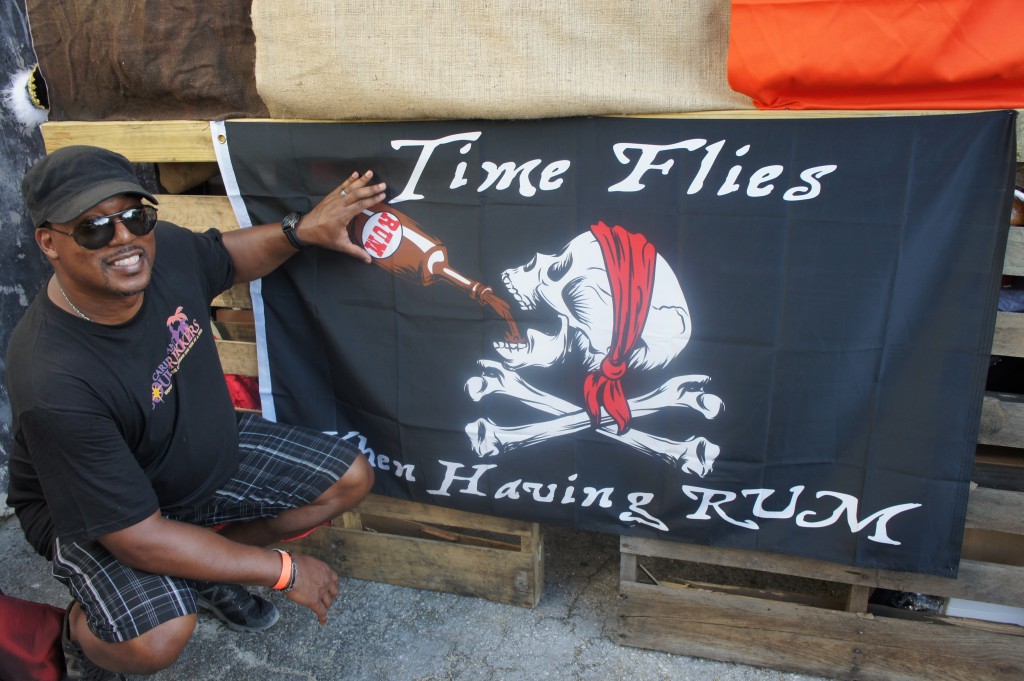 …and agreed that time sure was flying at this outstanding event!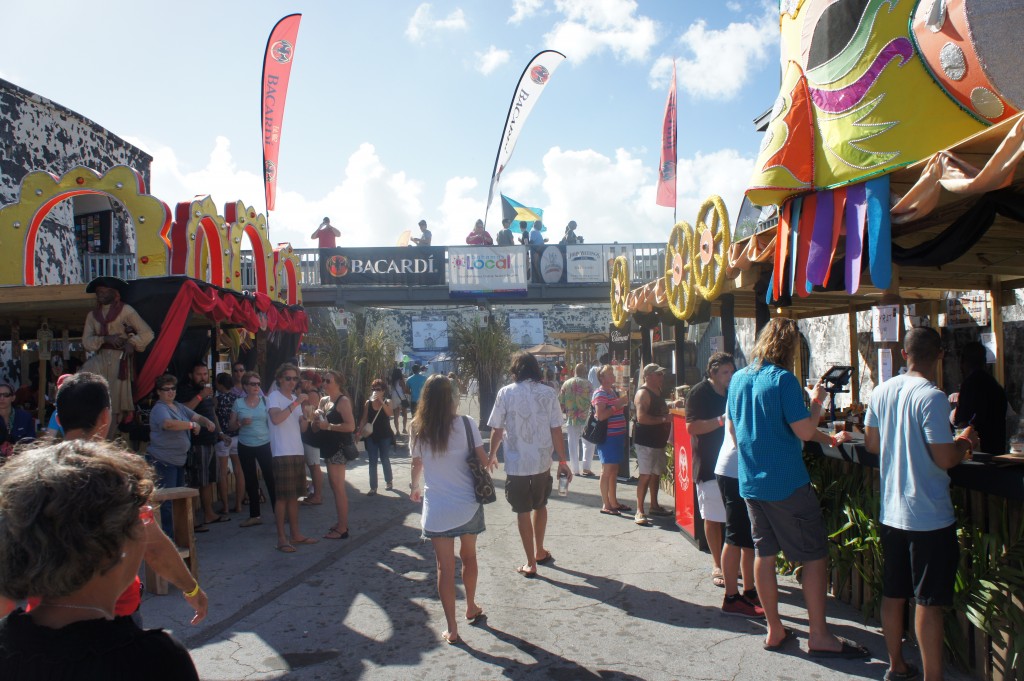 We wasted no time in joining other rum enthusiasts…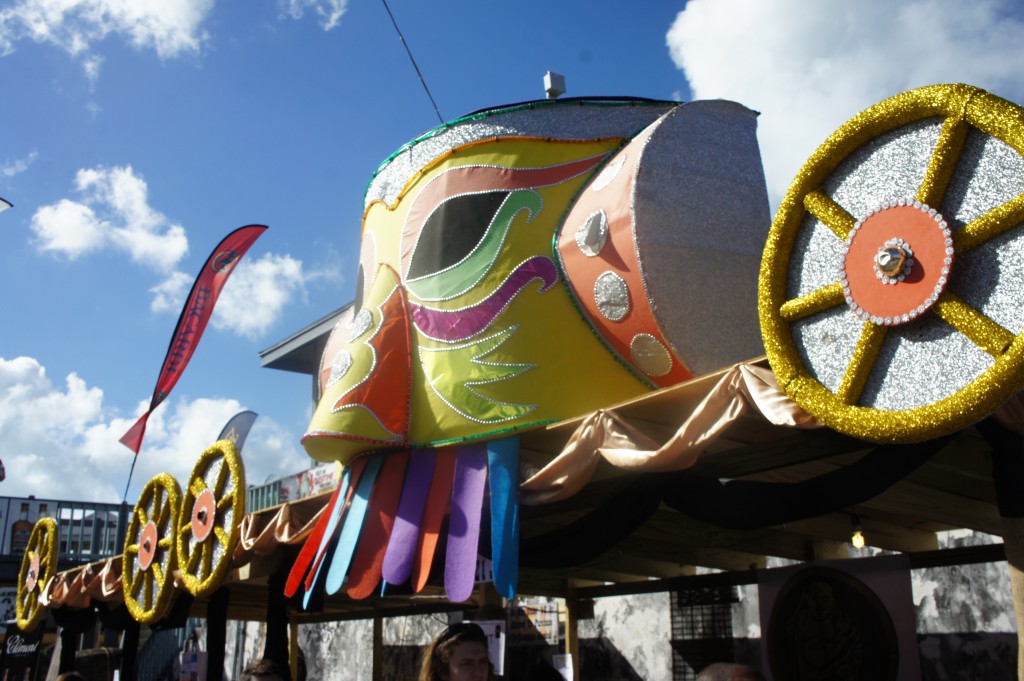 …under the golden Bahamian sun…
…for rum presentations…
…and rum tastings by local distillery John Watlings as well as many other distilleries from around the Caribbean.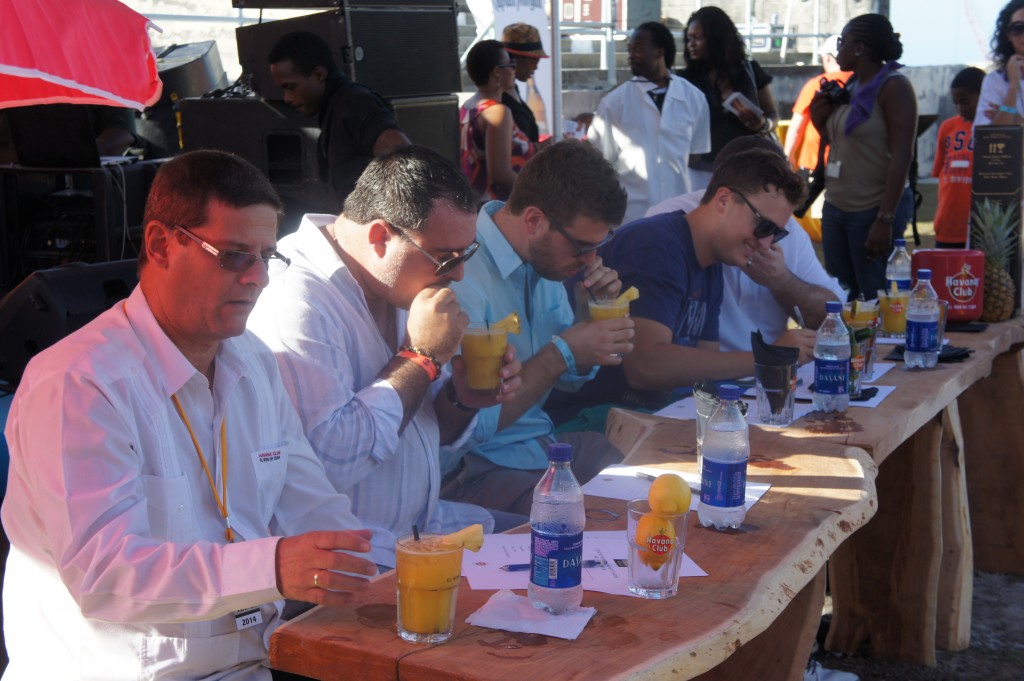 A stop at the lively mixology competition…
…promptly reminded us it was time to sample some more of our favorite cocktails like the Pineapple Bacardi Mojito.
We checked out the Bahamian-made clothing, jewelry and crafts for sale at the Microbusiness Pavillion…
…then felt like celebrities when Rum Radio asked us for an impromptu interview!
We connected with Catherine Chisnall from Team Rum Bahamas… 
…and caught up with our good friends Lisette Davis from Rum Boat Retreat and Rumshop Ryan from Caribbean Escape Blog.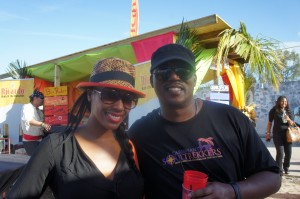 Every turn seemed to present us with an opportunity to make new connections…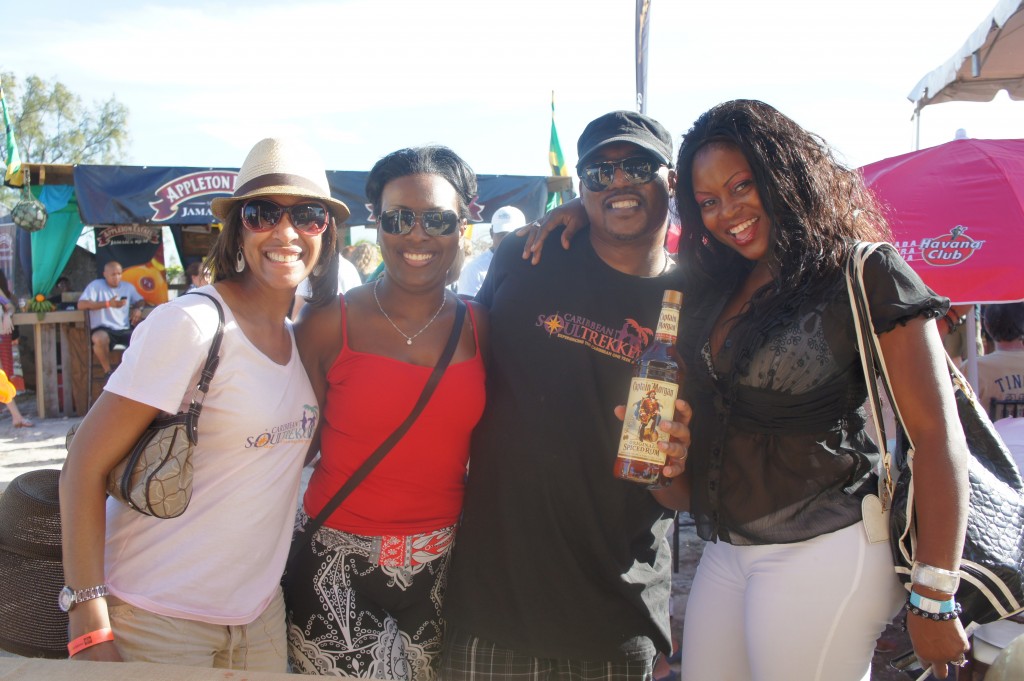 …with other smiling rum enthusiasts!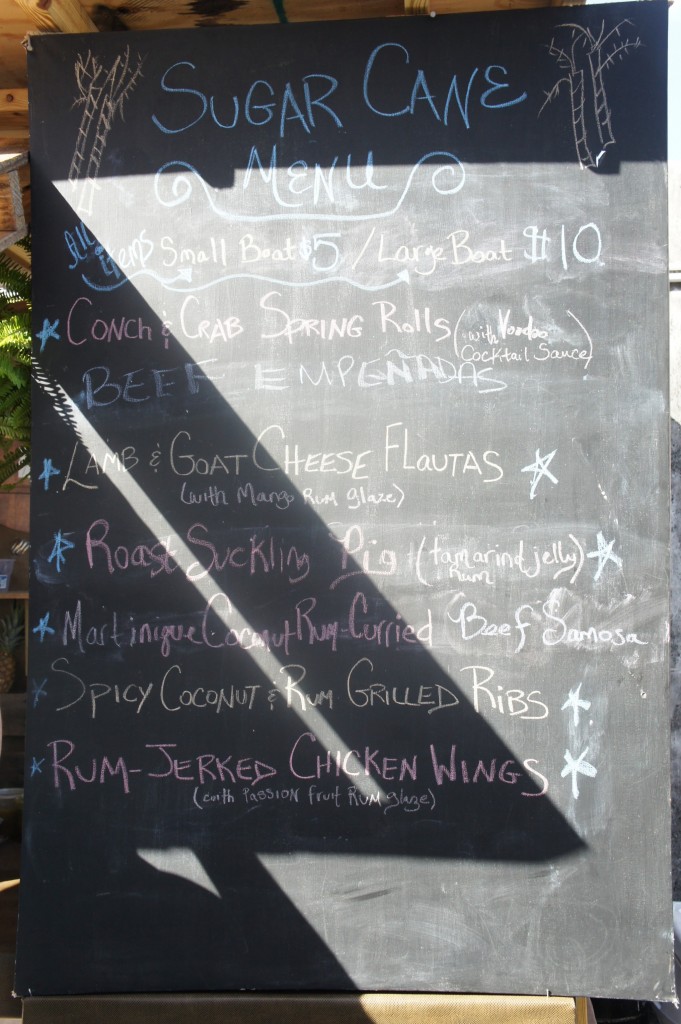 The popular Sugar Cane food booth offered an amazing array of rum-themed foods…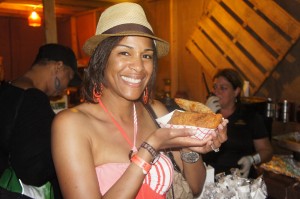 …such as these piping hot, beef empanadas which I slathered in rum-based hot sauce.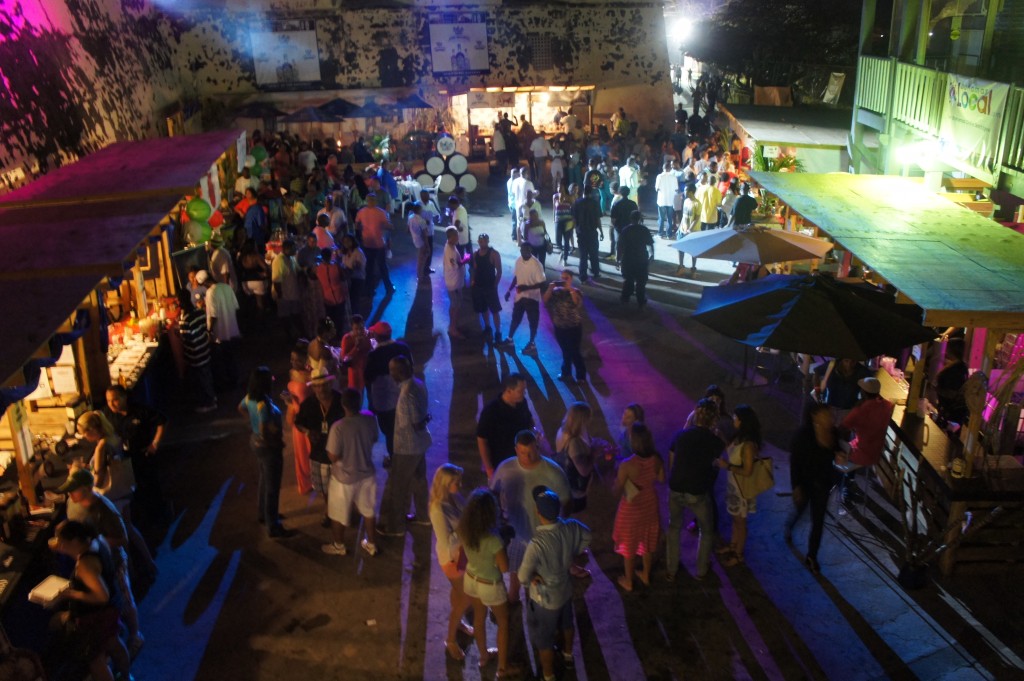 Then, it  was back to the street party for more rum tastings…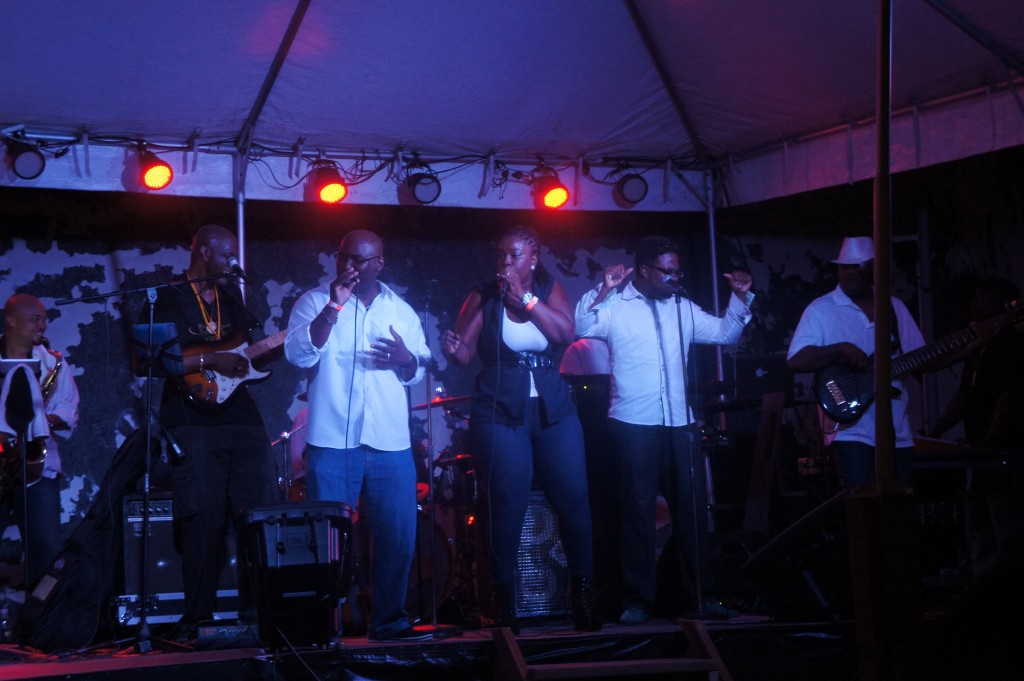 …and a crowd-pleasing selection of reggae, R&B and Bahamian jams provided by the amazing local band Thingum Dem.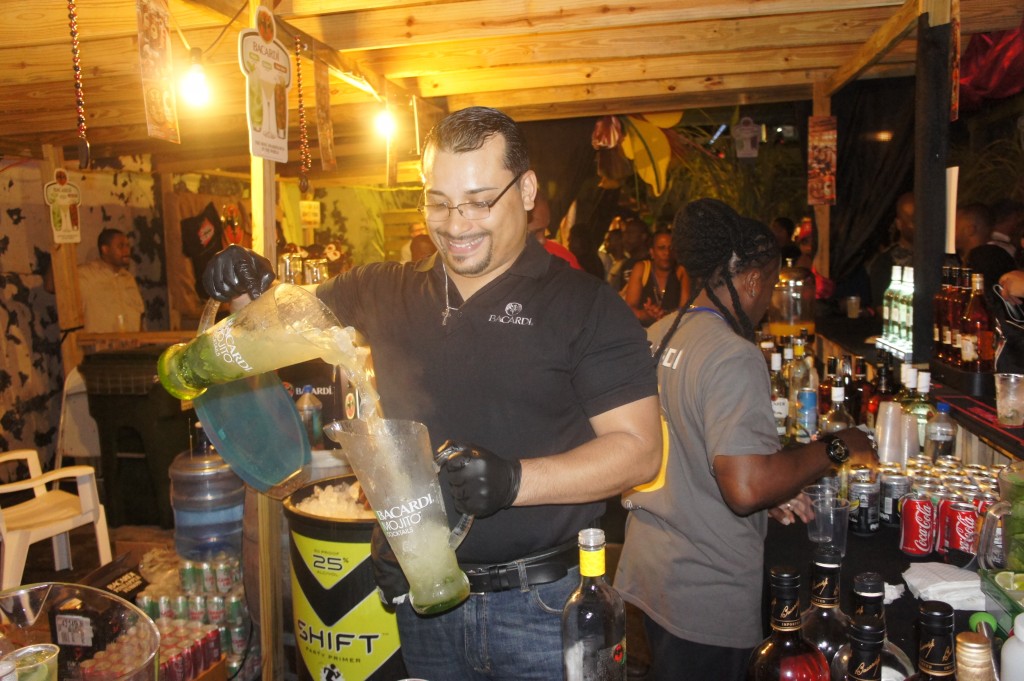 Before saying our goodbyes, we enjoyed one last Bacardi Pineapple Rum Mojito made by this expert bartender. It was the perfect way to end the evening!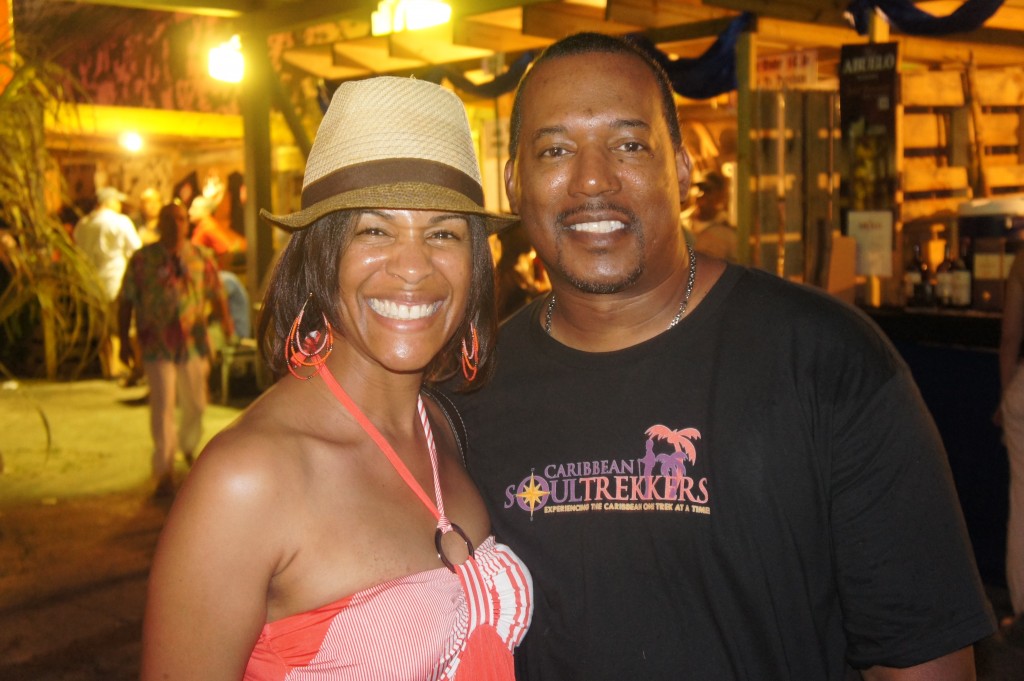 Caribbean Soul Trekkers had an unforgettable time at the first annual Festival Rum Bahamas and thanks all of its organizers for bringing Bahamians and tourists together to mingle and enjoy culture, music, history, food and rum. Next year promises to be even bigger. We hope to see you there!
Check out the Festival Rum Bahamas website for more info.