Rainy Day in St Thomas? Go Shopping and Bar Hopping in Charlotte Amalie
Caribbeans often call rain "liquid sunshine" and never let it ruin a good day. So, when rain was in the forecast for one of our four precious days in St. Thomas, we made lemonade out of lemons and set out for Charlotte Amalie to pass the time. Originally designed to facilitate the transport of goods from ships to shore, a large portion of downtown Charlotte Amalie's shopping district is still connected by alleys and passageways. This fortunate layout inspired a fun-filled day of shopping and bar hopping with limited exposure to the pouring rain. Here's our itinerary for what to do on a rainy day in Charlotte Amalie, St. Thomas:
Stop #1. Little Switzerland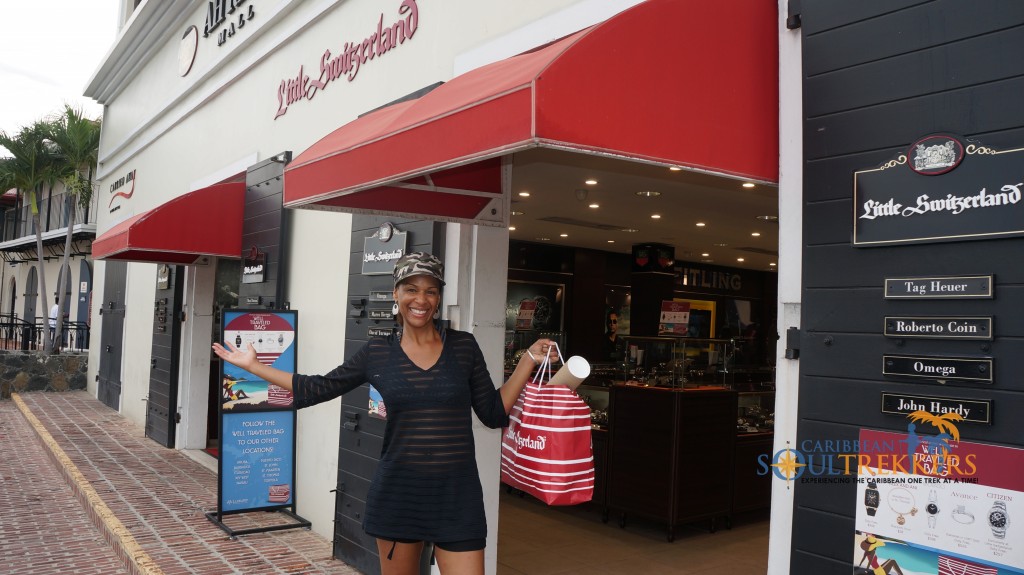 Our cab driver established the starting point for our journey when he dropped us off at the St. Thomas outpost of the world-famous Little Switzerland chain, centrally located on Main Street. We were impressed by the friendly and super helpful staff as well as the wide selection of luxury watches and jewelry sold at competitive prices.
Stop #2. Bumpa's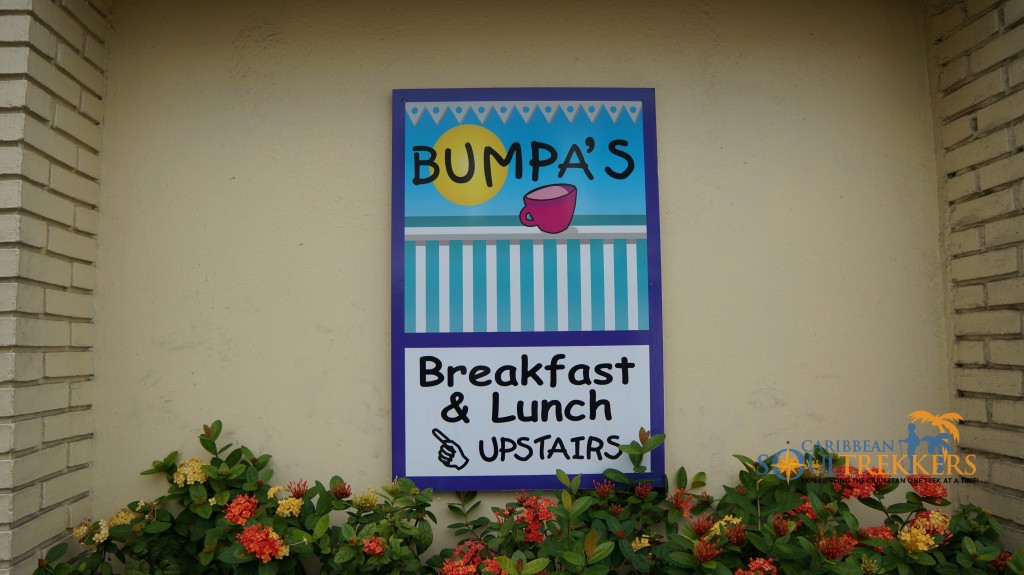 We ducked into this deli-style eatery around the corner from Main Street for a cup of coffee and were delighted by the menu offerings and view. Located on the second floor of an old West Indian house, Bumpa's offers traditional American breakfast foods, baked goods, fresh salads, sandwiches, ice cream and refreshments including a non-alcoholic, mojito-like soda. Click here for their menu. A covered, windowless dining area provides amazing views of the harbor.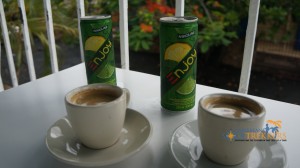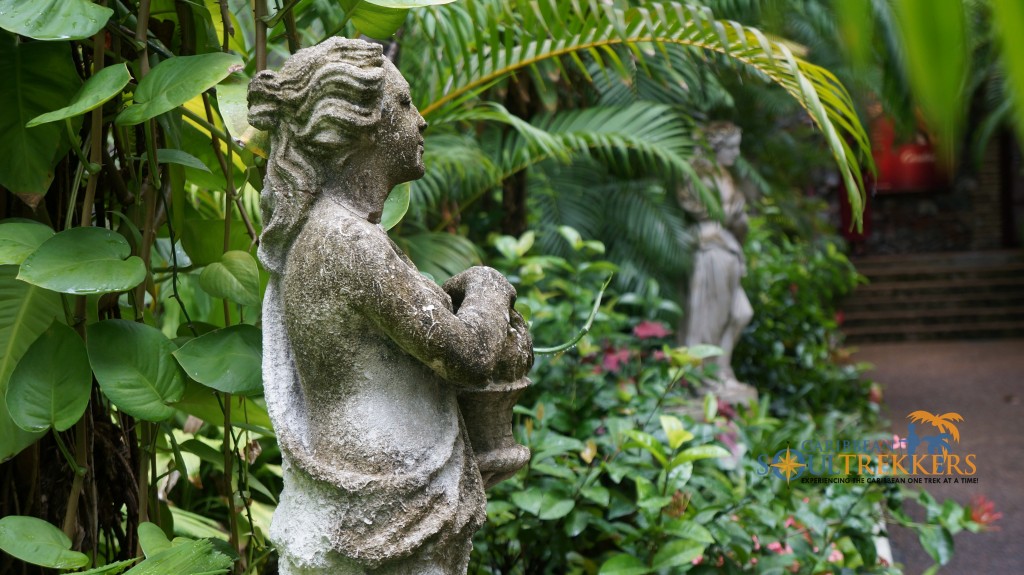 We passed through a lovely statue garden on our way from Bumba's to Palm Passage.
Stop #3. Café Amici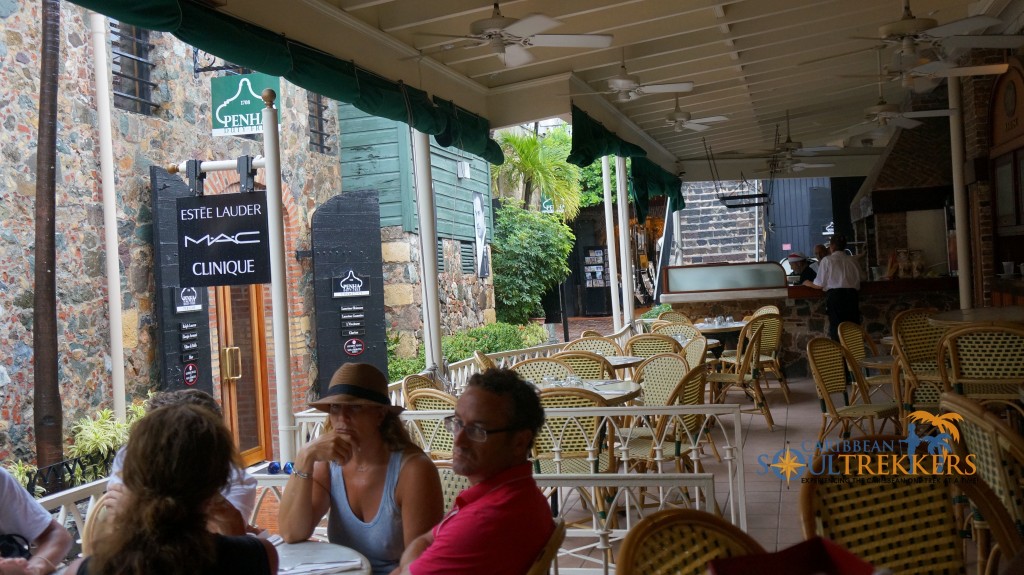 After walking through a lovely statue garden, we entered the A.H. Riise Shopping Mall, a collection of jewelry, liquor, art and clothing boutiques. In its center lies a cobble-stone street that led us straight to Cafe Amici – an open-air restaurant that appeared to be a little slice of Europe right in St. Thomas. From its bar, we ordered rum drinks, people-watched and admired the plates of made-to-order brick-oven pizzas, pastas and salads being served to patrons.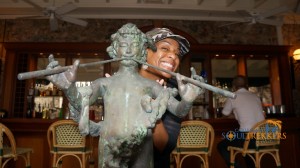 Clowning around at Cafe Amici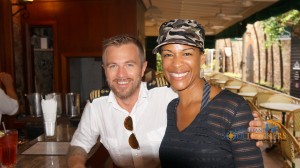 Met a super cool airline captain at Cafe Amici!
Stop #4. The Belgian Chocolate Factory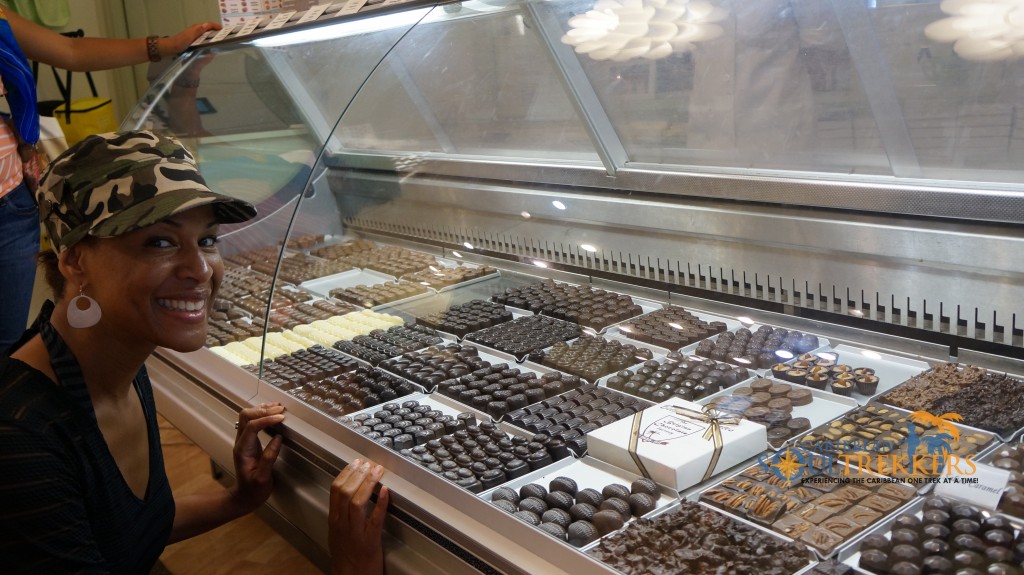 The sweet smell of chocolate drew us into the Belgian Chocolate Factory on Hibiscus Alley. This lovely shop sells an assortment of mouth-watering chocolates that are made right on the premises (you can see chocolates being made through a large glass window behind the counter).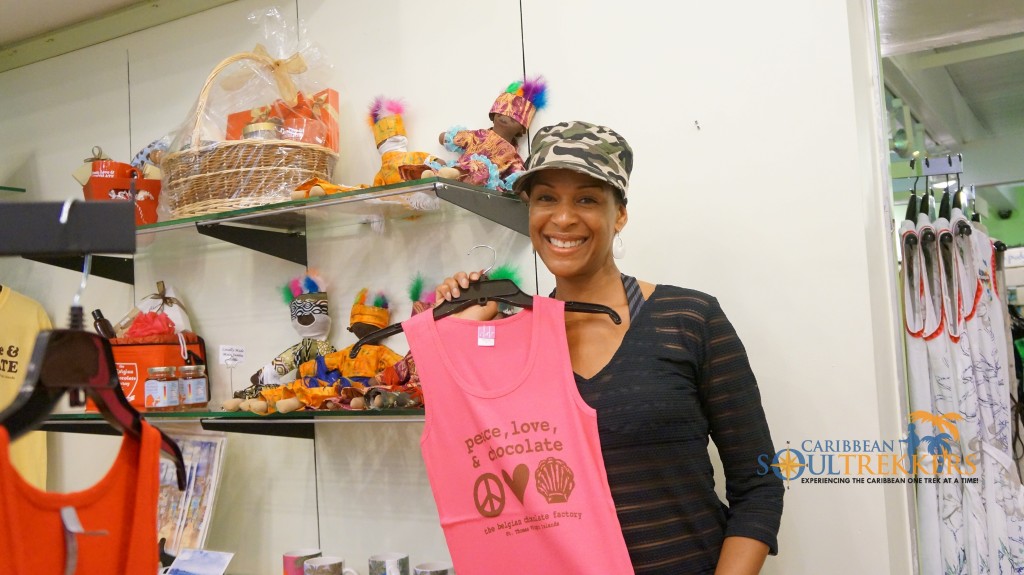 In addition to chocolates, a clothing line featuring the Peace, Love and Chocolate motto is also sold here.
Stop # 5. Greengos Caribbean Cantina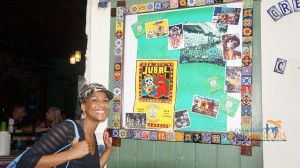 We crossed the alley in front of the Belgian Chocolate Factory to find Greengos Caribbean Cantina – a funky and vibrant Mexican eatery decorated with skulls, tapestry and rustic furniture.
Photo courtesy of Greengos Caribbean Cantina
Tables were filled with patrons enjoying fresh and colorful Mexican favorites like tacos, quesadillas, burritos, salads and nachos with salsa. Not yet ready for a meal, we perused the diverse bar menu, noteworthy for a unique assortment of infused tequilas.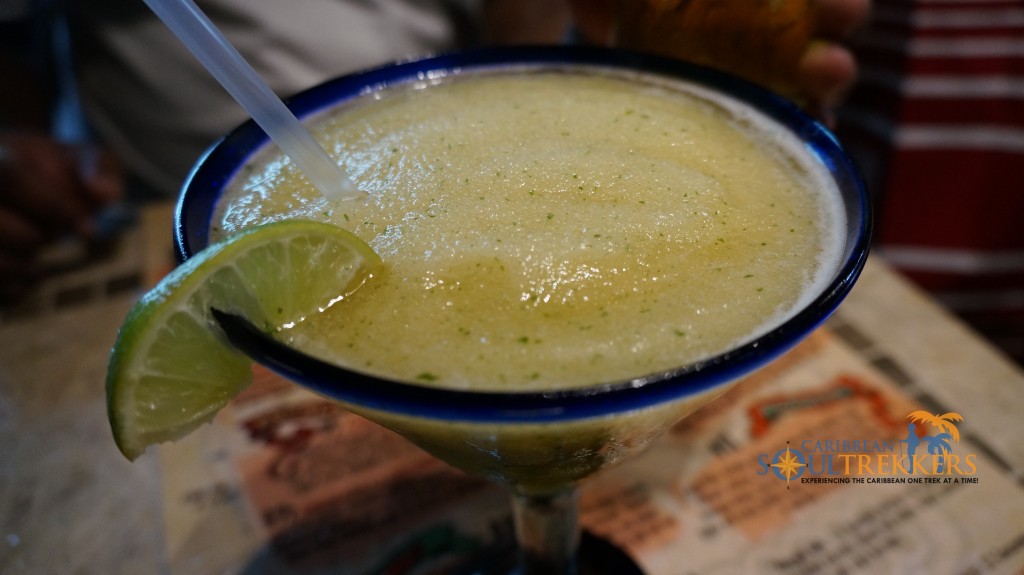 We settled on a shot of rum and the Bandito, a frozen cocktail of chili infused tequila, fresh cilantro, triple sec and peaches. Delightful!
Stop #6. The shops on Back Street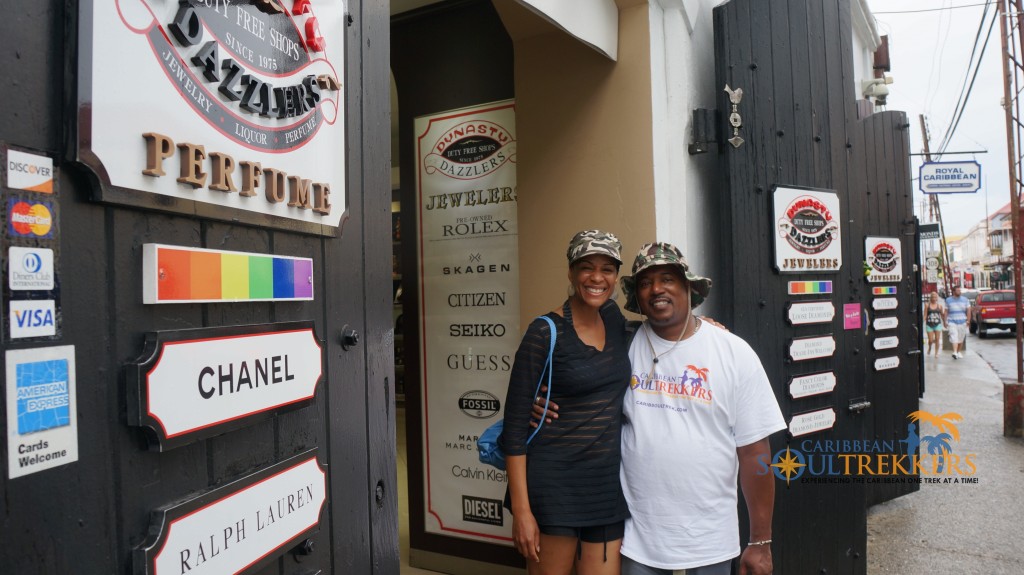 Though there is no waterfront view, the trek up to Back Street may be worth the extra savings on many items. Jewelry, liquor, perfumes and clothing are plentiful…
 Stop #7.  Art Vendor in Drake's Passage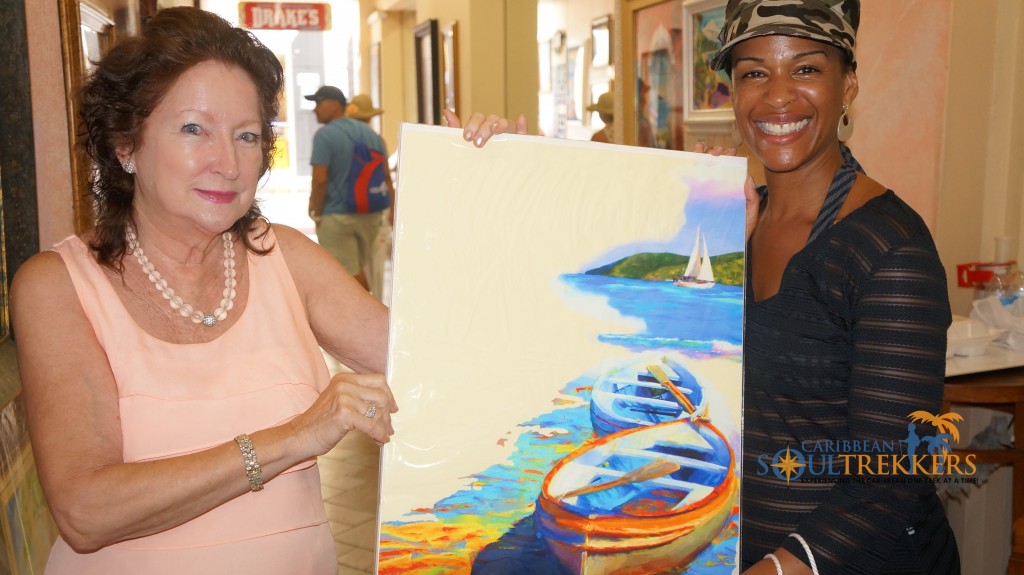 Drake's Passage is a corridor that cuts through the shopping district, connecting Main Street to Back street. Besides jewelry stores and souvenir shops, it is also where we found this delightful vendor selling an array of tropical-themed paintings.
Stop #8. Liberty Jewelers in Drake's Passage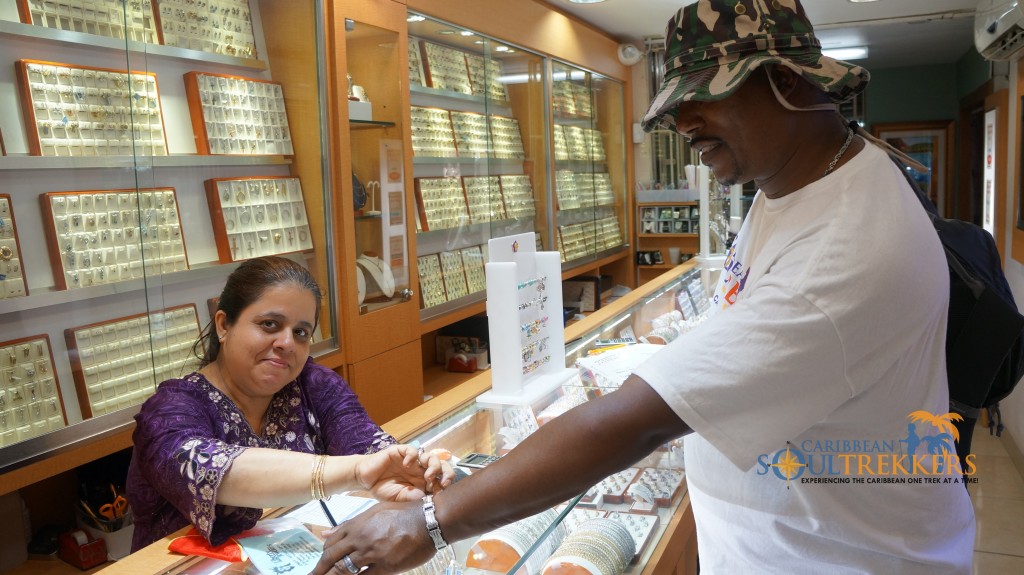 Liberty Jewelers is a cozy, family-owned jewelry store that packs in a nice selection of silver and gold pieces at reasonable prices. Not only are the owners friendly and attentive, they are also willing to negotiate. We walked away with two well-priced bracelets, including this lovely hammered silver and gold hook bracelet.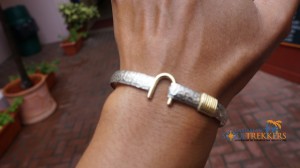 Stop #9. Local Colors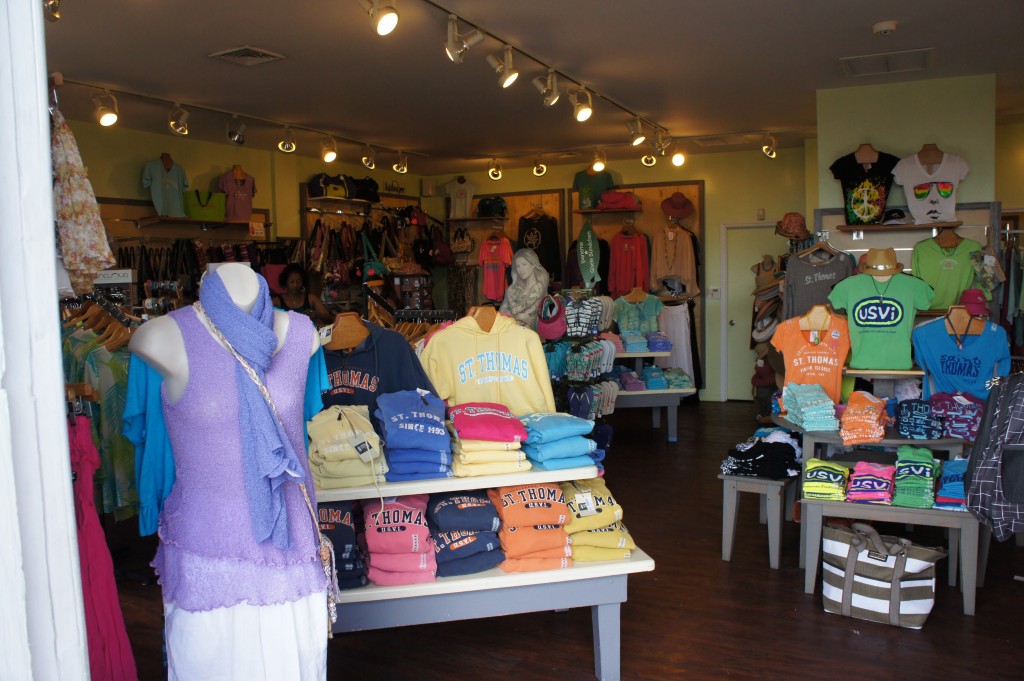 We headed back to the waterfront and into this delightful souvenir shop filled with a rainbow of St. Thomas t-shirts, tops, bags and hats.
Stop # 10. Big Kahuna Rum Shack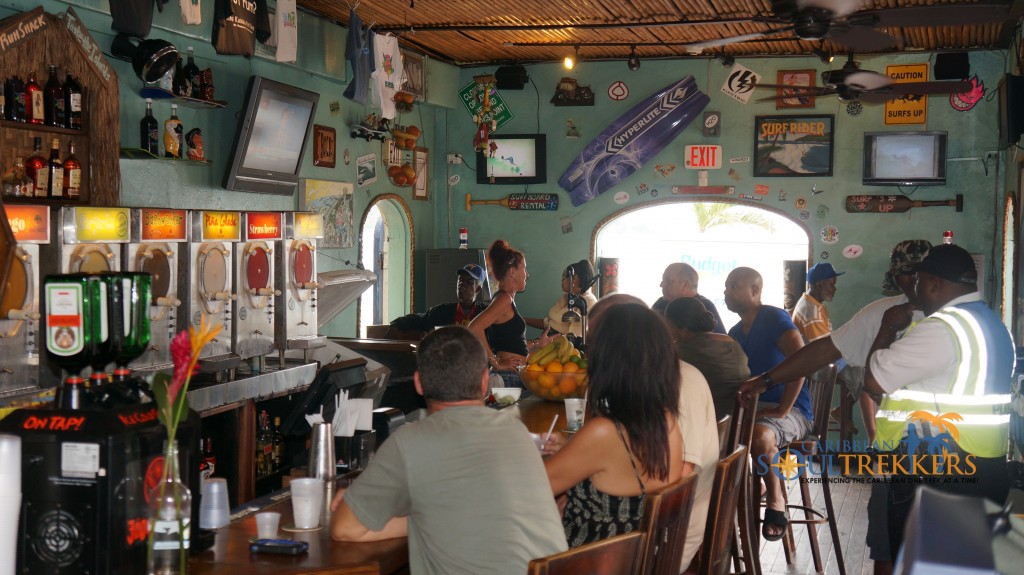 A few steps away was Big Kahuna Rum Shack, a laid back gathering spot popular with tourists and locals.
This surf-themed bar offers quite an extensive drink menu including a dozen specialty rums, infused vodkas, local beers. Mixed drinks include frozen rum drinks, "crushes" (infused vodka, fresh juice and Sierra Mist), flavored mojitos and their special concoction – Love Juice. Accompany your drink with items from their extensive menu of salads, sandwiches, wraps and flatbread dishes.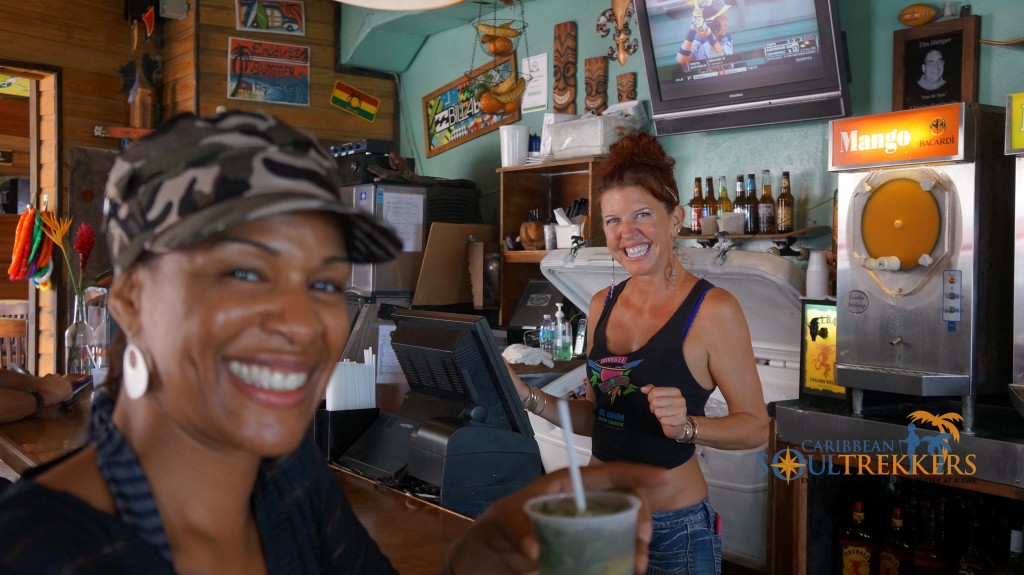 Our bartender, Lola, whipped up an impressive pineapple mojito!
Stop # 11. Gladys' Cafe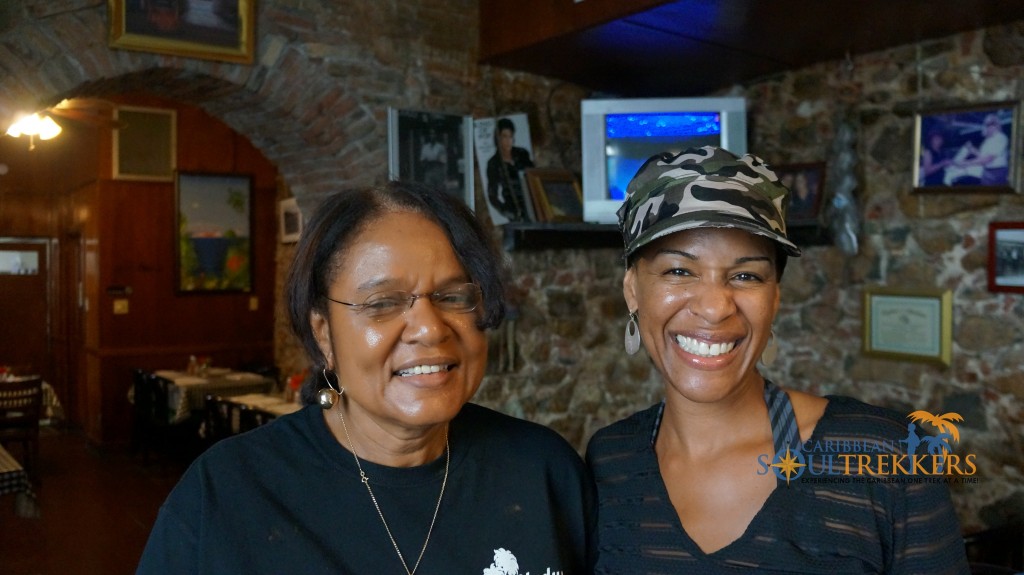 So happy to have met fabulous Gladys in person!
Nothing goes better with a day of shopping in Charlotte Amalie than lunch at Gladys' Cafe. Here, Caribbean dishes such as roti, jerk chicken and pork, stewed oxtail and peas and rice are lovingly prepared with authentic recipes the put a smile on your face after just one bite. And if the food wasn't enough to lure us in, Gladys' melodic voice floating from behind the bar, sure did the trick.
Soursop drink topped with rum and a succulent grilled mahi sandwich
 Stop # 12. Bones Rum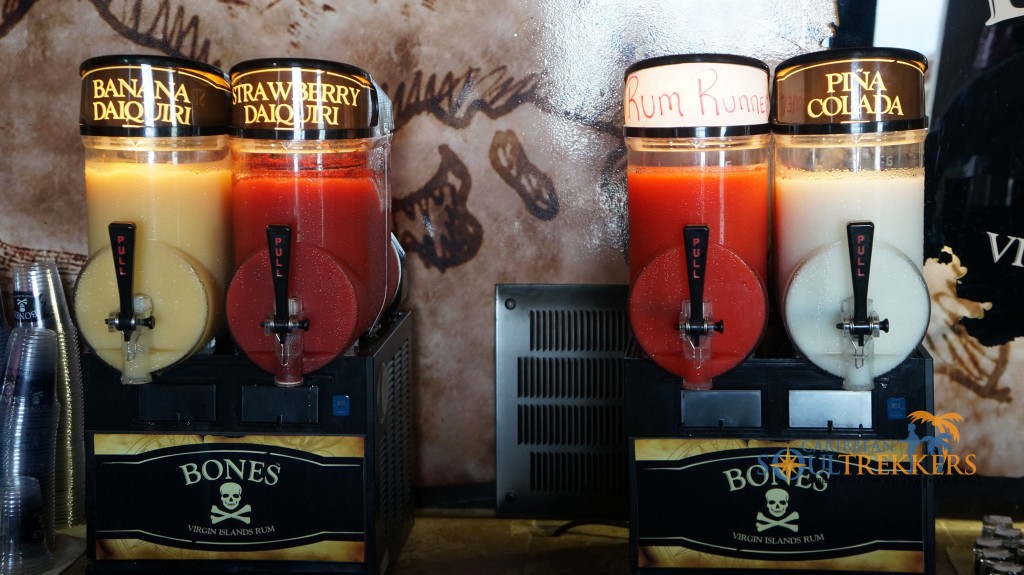 As the sun emerged it was time to admit that all good things must come to an end – but not before a shot of rum! And, what better place than Bones Rum where the smooth, dark liquor is manufactured in USVI and where guests are allowed to pour their own rum into a variety of frozen drinks!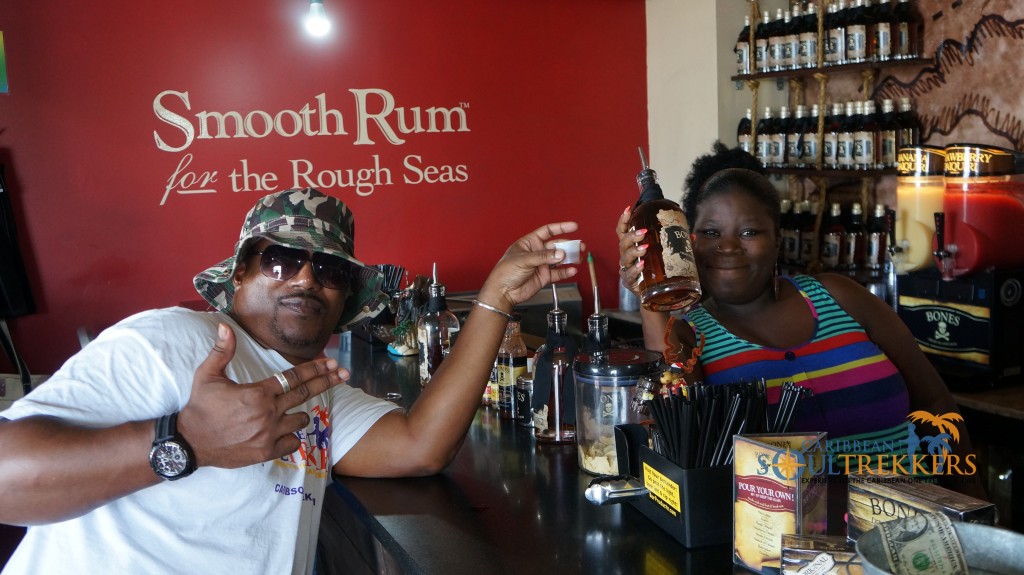 Cheers!
 Caribbean Soul Trekkers urges you to drink and shop responsibly – there's nothing worse than coming home with regrettable, alcohol-induced purchases.
 Did we miss any of your favorite stops on our shopping and bar hopping tour of Charlotte Amalie? If so, let us know.