Soul Beach Music Festival 2013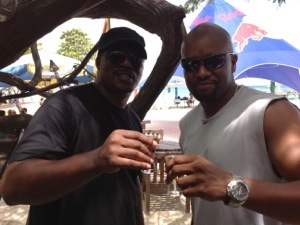 An 11am shot of Bacardi 151 to get the day started! Woo! Mango Eddie and Mo gettin it in!
This is a quick check in!
We're just two days into the Soul Beach Music Festival. And, two day beach parties, three night parties and one comedy show later, it's starting dawn on me that we don't have the party stamina that I thought we did! There just hasn't been enough time to catch our breaths if you go hard like we do (or how we imagine we do).
The parties at Moomba Beach have been awesome so far! Each day has been sunny and hot (90s!) but the balmy breezes, cool drinks and quick dips into the ocean have made the heat tolerable. The attendees have completely taken over the peaceful Moomba Beach, packing in under the two giant palapas, taking over most of the lounge chairs and spilling into the ocean.
The beach parties were scheduled to last from 10 am to 3 pm but have actually gone strong 'til 5 pm both days. That's how hard everyone has been partying! DJs from Aruba, LA and St. Martin have kept the crowds moving with old school grooves, hip hop and R & B. The sound system is so powerful, you can hear the bass boom from as far away as the Westin. Folks have been jammin' under the huge Red Bull tent in the middle of the beach and having a GOOD time. And of course, everyone has jumped in whenever the Wobble and Cupid Shuffle (extended mixes of course) have played. It's quite a site to see crowds of beautiful people of all nationalities moving in synch on the beach and into the ocean!
I have to give props to the bartenders and wait staff at Moomba Beach! They've been doing an excellent job at keeping up with the large crowd's demands for food and drink.
We'll try to get in another quick post later today and will follow up with a more elaborate photo gallery from the day parties later in the week.