The British Colonial Hilton, Nassau Bahamas: A Convenient Location in Paradise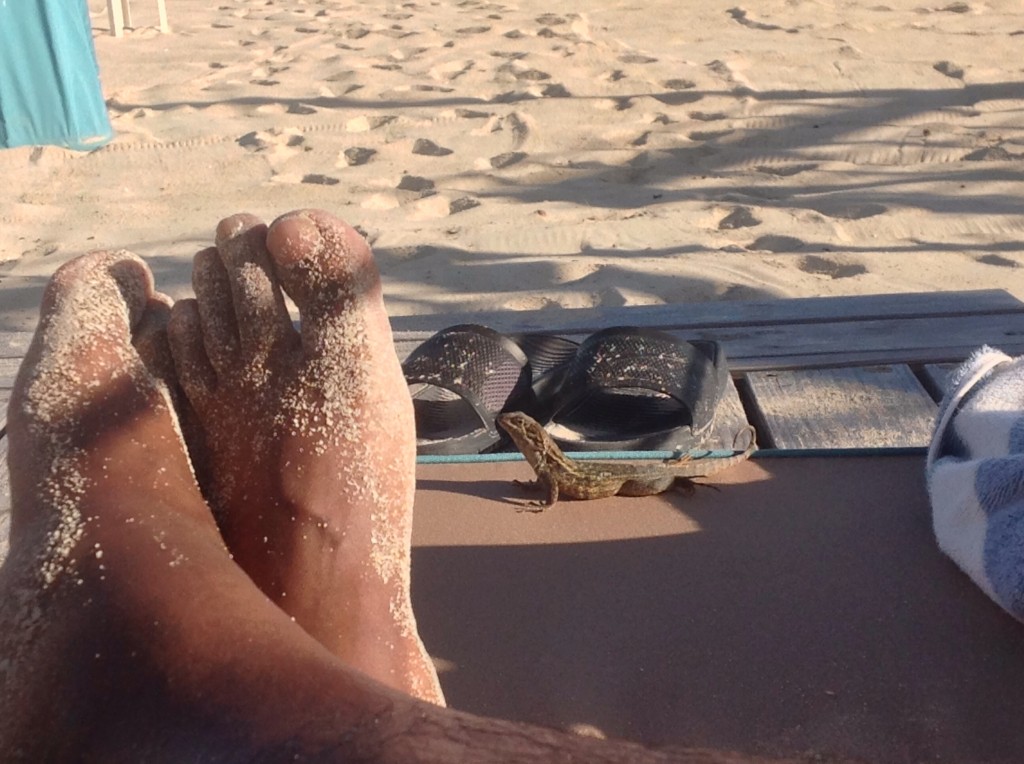 Mango Eddie makes a new friend while sippin' on rum at the British Colonial Hilton
Welcome to the British Colonial Hilton in Nassau, Bahamas. Aside from being a hotel rich in history and amenities for international business travelers, it provided the Caribbean Soul Trekkers a convenient home base to explore downtown Nassau AND Rum Festival Bahamas.
The British Colonial Hilton, often referred to as "the Grand Dame of all Nassau hotels", stands at the former site of the Old Fort of Nassau. The fort was erected during the height of the age of piracy to protect the town of Nassau and was torn down in 1873. The hotel was initially erected on that same site in 1901 then rebuilt 1923.
The British Colonial Hilton is a pleasant 25 minute ride from the airport. As we stepped out of our taxi, we were greeted by smiling bellhops and the imposing statue of Woodes Rogers. He is famous for being the first governor of the Bahamas and a singular force in ending piracy there.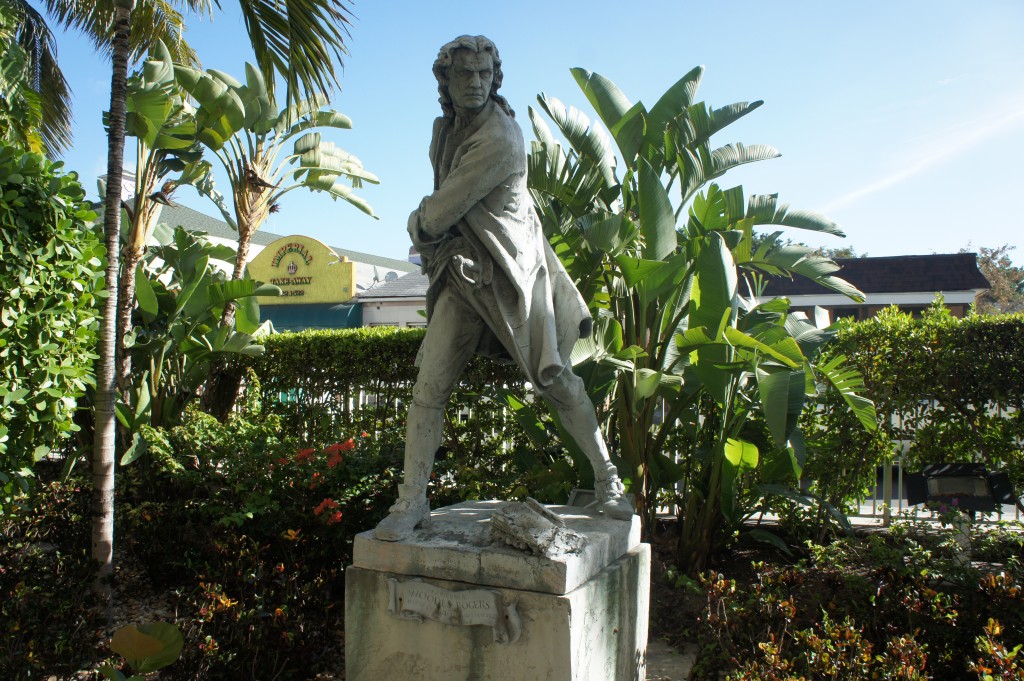 The statue of Woodes Rogers in front of the British Colonial Hilton reaching for his pistol. Some say this depicts Rogers fighting pirates while others say it depicts him just before his demise – as he is reaching for his pistol which jammed in the holster and therefore could not be used to save his own life.
The British Colonial Hilton's marble-tiled lobby and grand staircase
Its rooms are  simply appointed, clean and comfortable. For those hard at work, desks are fitted with ergonomic chairs. For those hard at play, the chairs are perfect for hanging beach towels.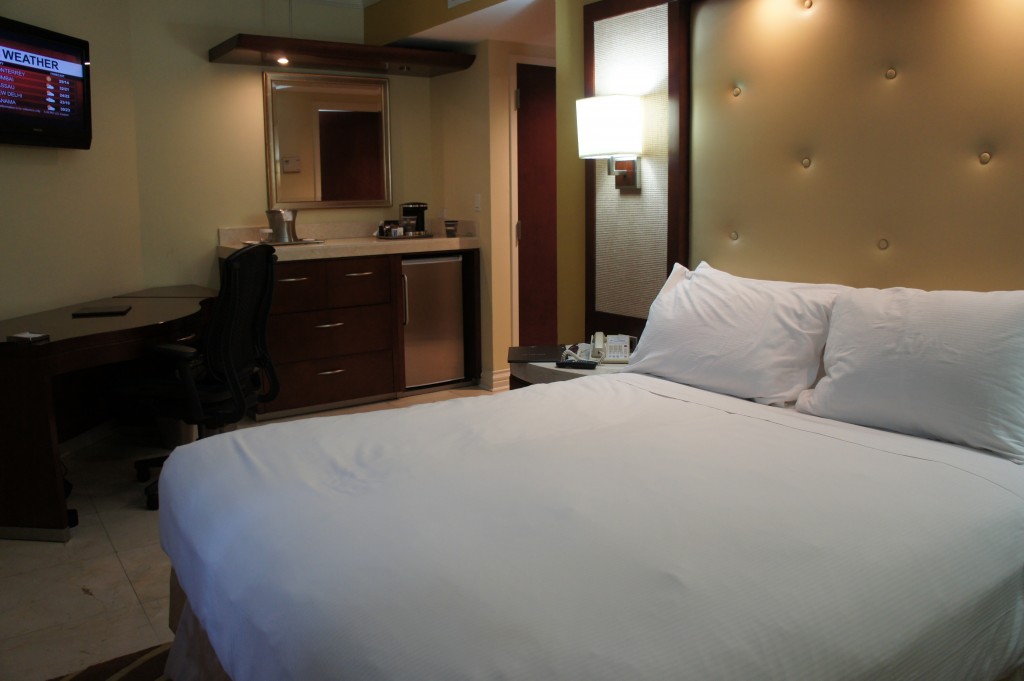 Our room at the British Royal Hilton in Nassau, Bahamas
On our way to the beach bar for our traditional first rum drink of the trip, we passed the property's pool, basketball court and the only private beach in downtown Nassau. It was hard to believe that just three hours after leaving behind Washington D.C.'s unseasonably cold temps, we were kicking back at the beach bar smelling the sweet Caribbean air.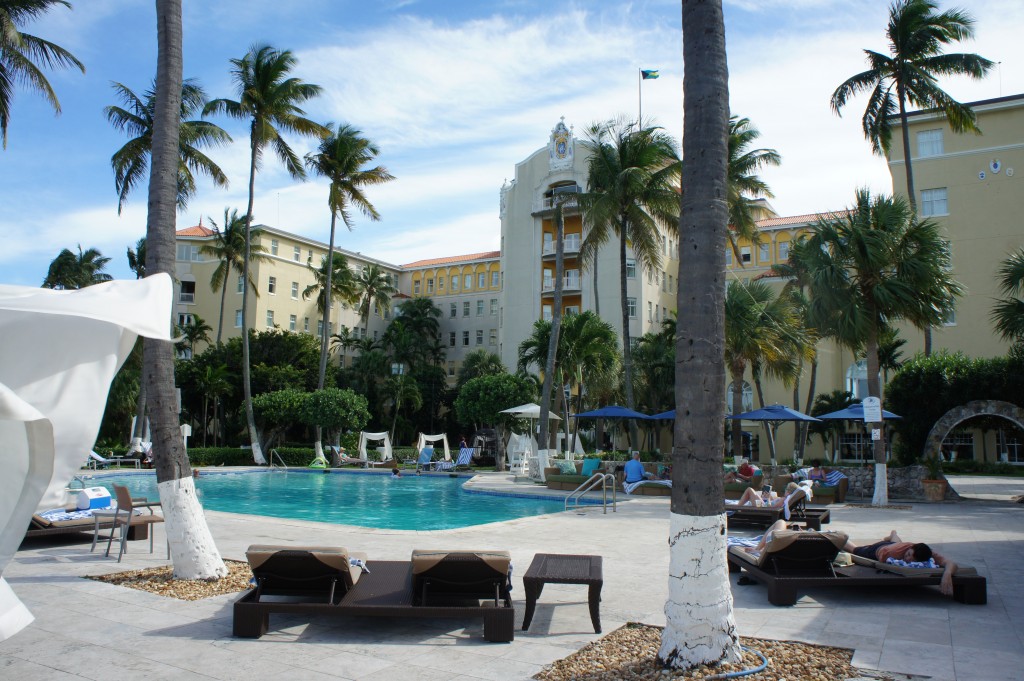 Poolside at the Hilton, Nassau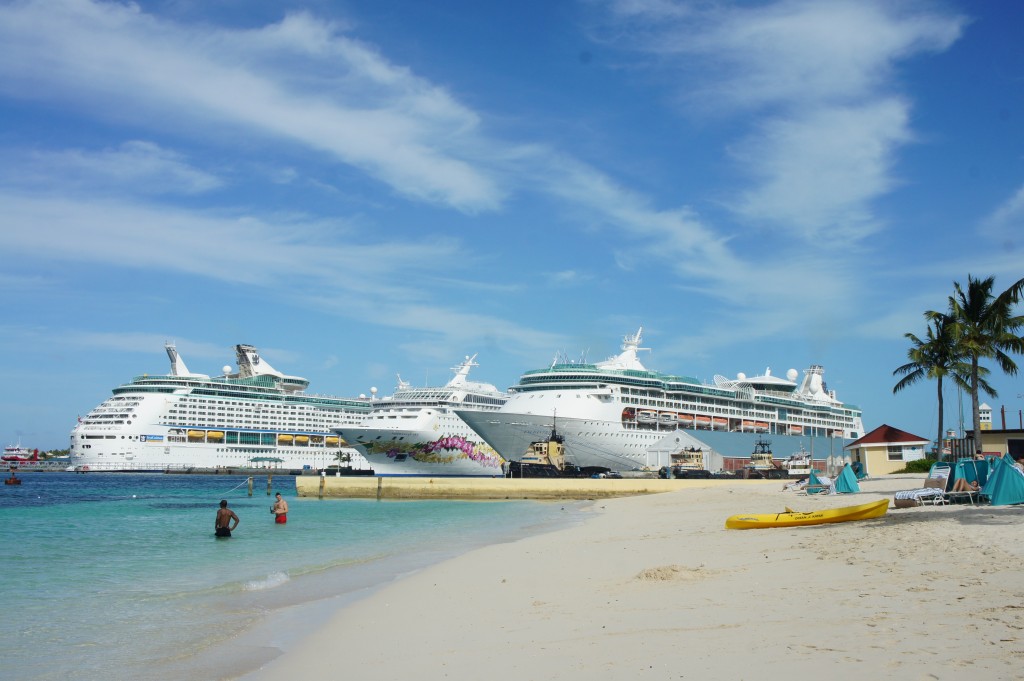 View of cruise ships in Nassau Harbor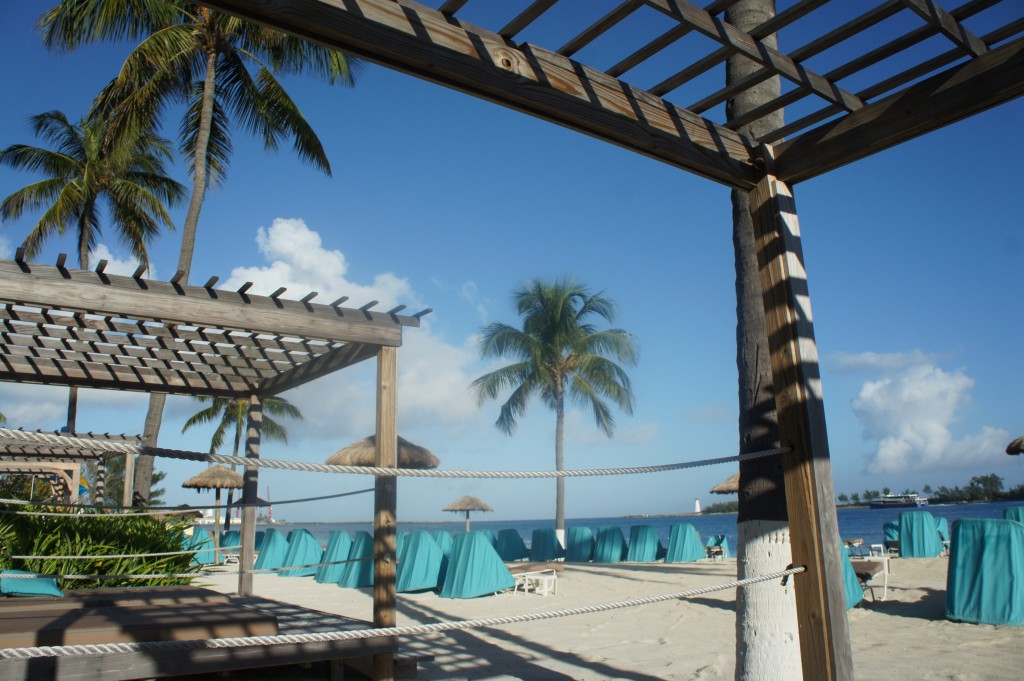 Beach cabanas in downtown Nassau's only private beach
After taking an hour to soak in the tranquil Caribbean landscape of looming palm trees, sparkling water and massive cruise chips in the backdrop, we continued through the property on our way to downtown Nassau. In addition to the Patio Bar and Grill, the British Colonial Hilton offers food and drink in two other venues: Aqua Restaurant for breakfast, lunch and dinner and Bullion Bar for light fare, cocktails and live entertainment.
Delicious signature rum drinks and succulent, grilled chicken salad at the Hilton's Patio Bar and Grill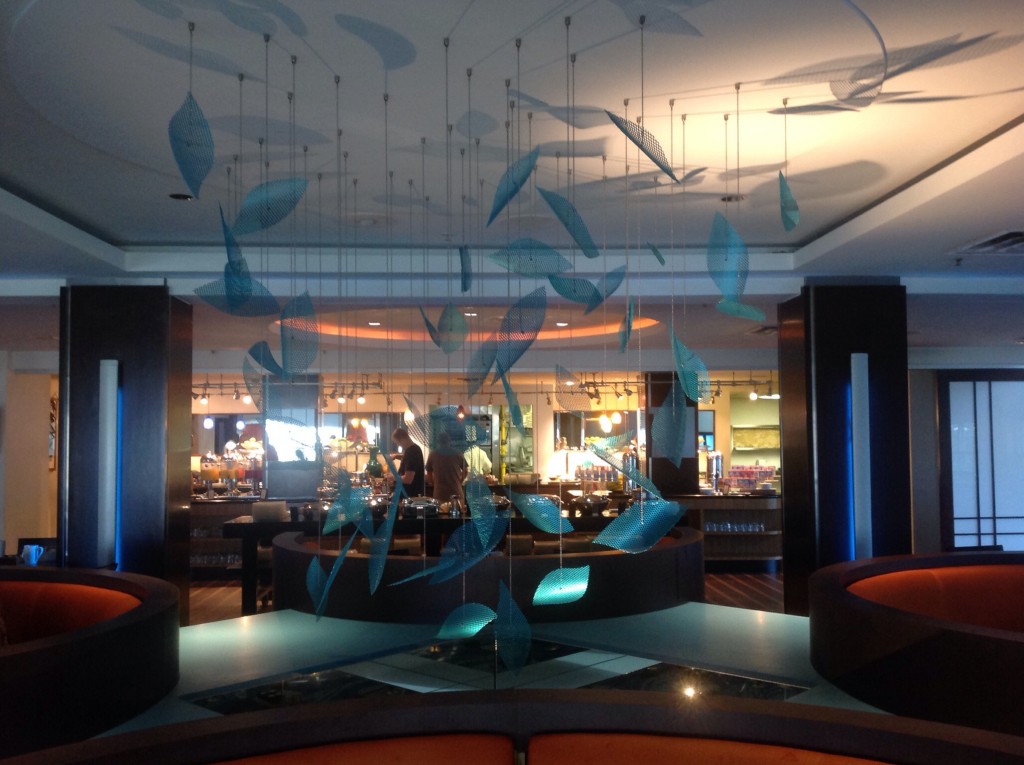 Aqua Restaurant for breakfast buffet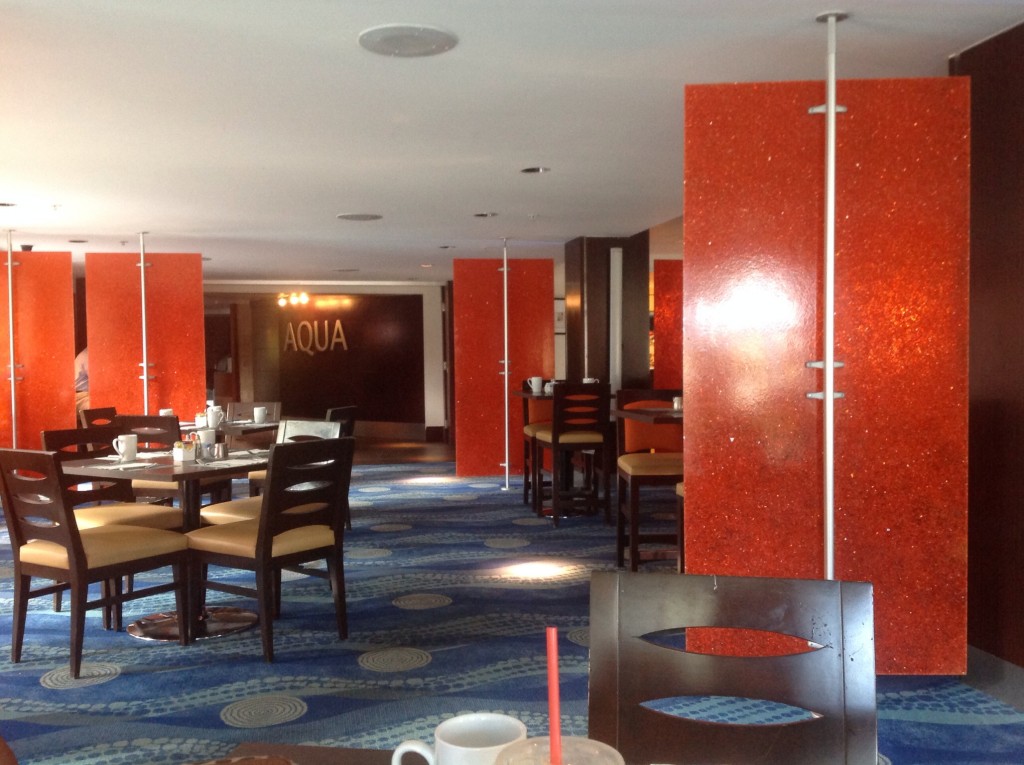 Interior of Aqua Restaurant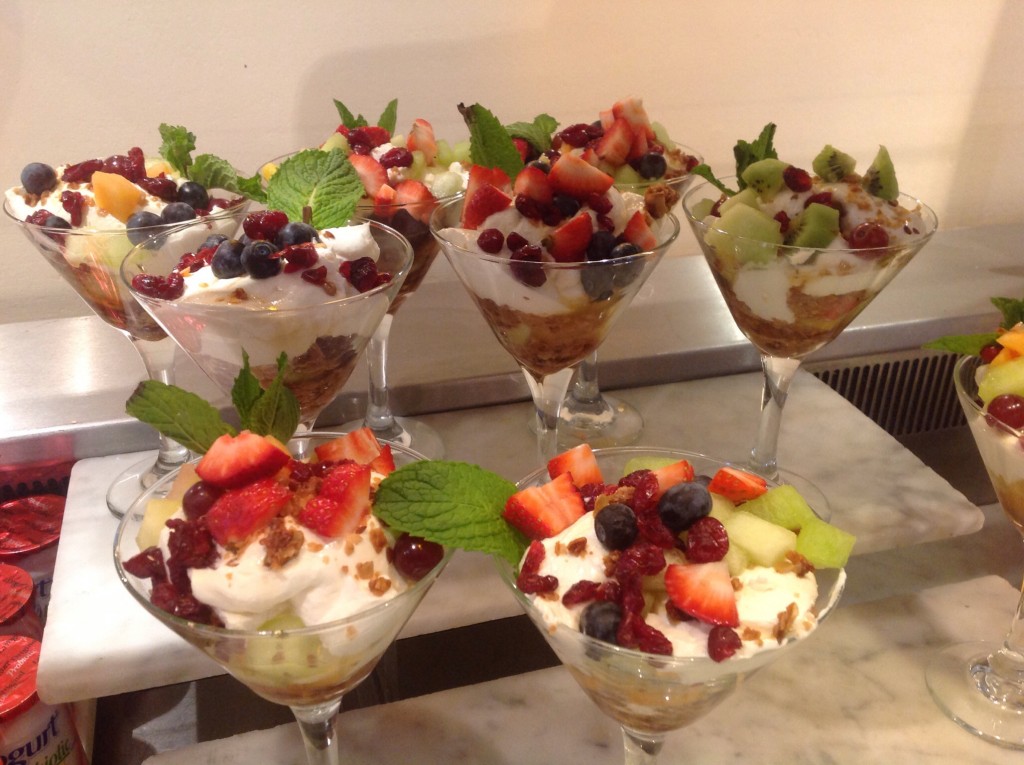 Greek yogurt parfaits at Aqua Restaurant's breakfast buffet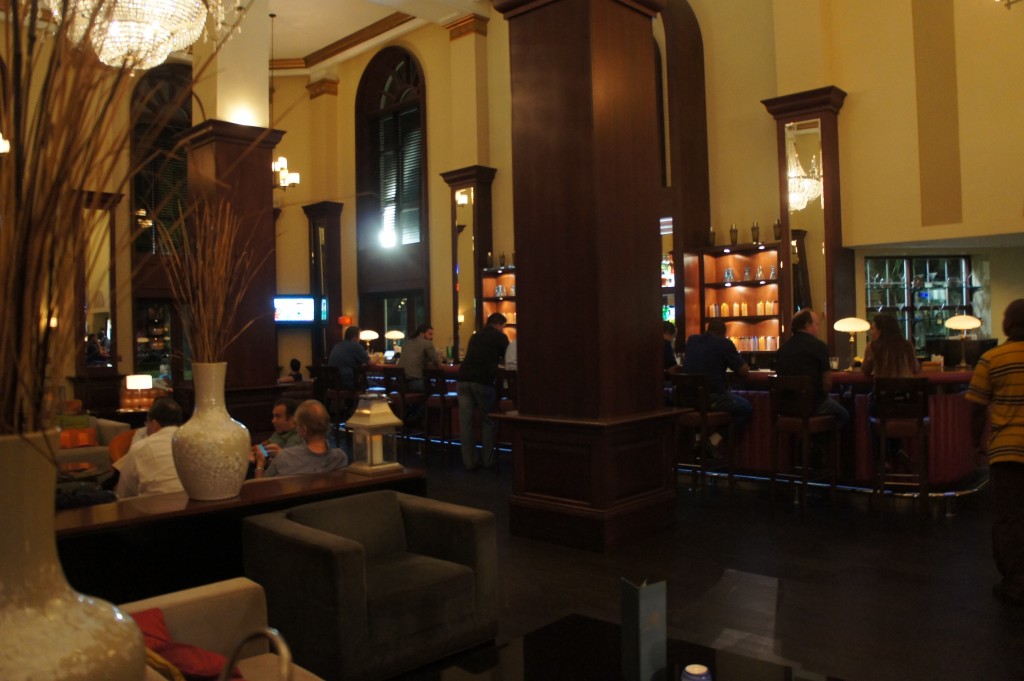 Evening cocktails at Bullion Bar
Less than ten minutes from the British Colonial Hilton Nassau's main strip, Bay Street, bustles. Sounds of cruise ship tourists mingle with the cadence of a steel drum player down the street. Pastel colored buildings house a string of shops bursting with bright Bahamian souvenirs, jewelry, rum cakes and hand-rolled cigars. Restaurants beckon with the savory aromas of Caribbean herbs and meats, rice and beans.
Behind Bay Street a row of brightly colored vendor stalls led the way to the popular ferry to Paradise Island and Atlantis (yay!).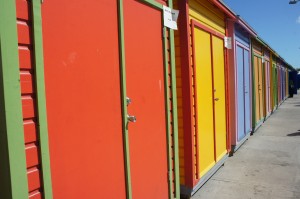 A rainbow of vendor stalls on the way to Paradise Island Ferry
The ferry to Atlantis was a short stroll from Nassau's British Colonial Hilton
The British Colonial Hilton's central location makes it easy to do more than just shop. It is close to can't miss restaurants like Via, Cafe Matisse and Graycliff. It is convenient to nightlife such as Señor Frogs and Ibiza. Nassau attractions like Pirates of Nassau, Queen's Staircase, Fort Fincastle, Parliament Buildings and the Art Gallery of the Bahamas and Junkanoo Beach are within walking distance. Da Fish Fry is a moderate walk or a quick cab ride away. The ferry to Paradise Island is down the street. And, a walk to Fort Charlotte for Rum Festival was a bit longer but still doable. Even on a belly full of tropical conch salad!
For those seeking a hotel that provides comfort, private swimming facilities, yummy restaurants AND convenience to Nassau's many attractions, check out the British Colonial Hilton.