Things to do in St. John (flashback)
A day trip to St. John is merely a hop, skip and a 20 minute ferry ride from St. Thomas. So why not make it a two for one vacation during your visit to St. Thomas? Once there, you can join an organized tour, but it's easy and potentially more rewarding to chart your own trek through this un-spoilled, verdant island like we did. Who knows where the day may take you? St. John is an island about the size of Manhattan and offers pristine Caribbean beaches, the largest protected park in the Caribbean, historic sites and an assortment of rustic beach bars. Simply follow the main road along the coastline or cut through the island's interior by way of the national park and stop whenever something catches your eye.
For our unchartered trek, we focused on scenic shots and refreshment stops.
Before embarking on our day trip to St. John, we fueled up at Red Hook's Lattes in Paradise. This open air café is conveniently located a short walk from the ferry port and serves breakfast sandwiches, pastries and lattes embellished with artistic flair.
We heart them!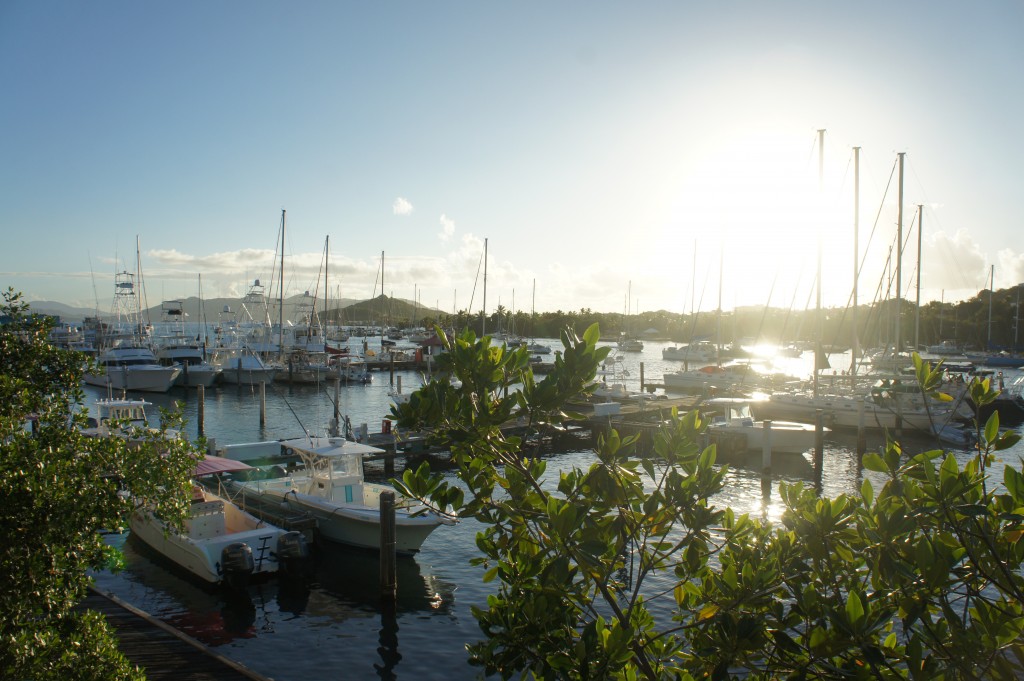 Along with our breakfast we were treated to a view of the sun rising over the adjacent yacht harbor.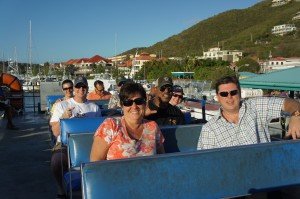 Then we continued to the lively ferry port. Adult fare is $6 each way.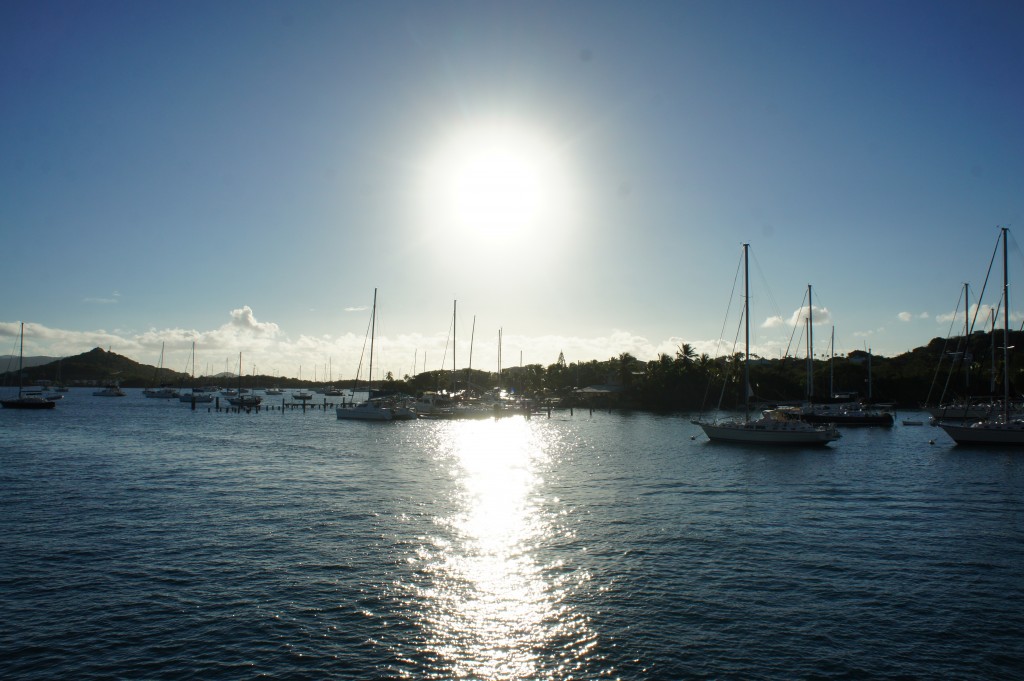 In my humble opinion, prime seating is on the top deck where you can snap pictures like this without obstruction.

In less than thirty minutes we reached beautiful Cruz Bay.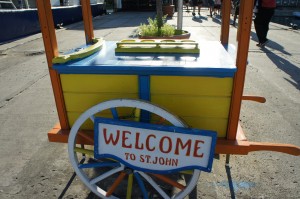 Where we immediately felt welcomed.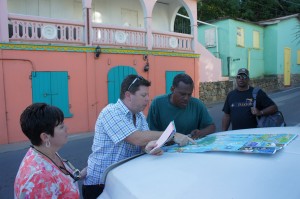 We dashed past the quaint shops and eateries in Franklin Powell Sr. Park (we'll be back soon) to pick up our rental car and plot our course for the day.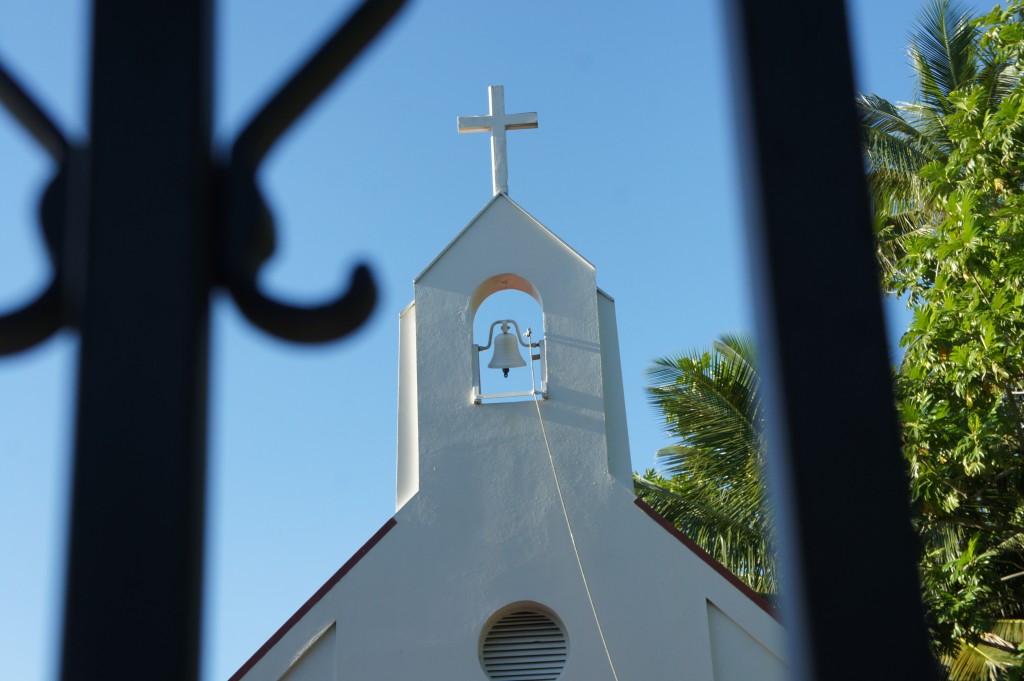 And then we set off on our adventure through St. John.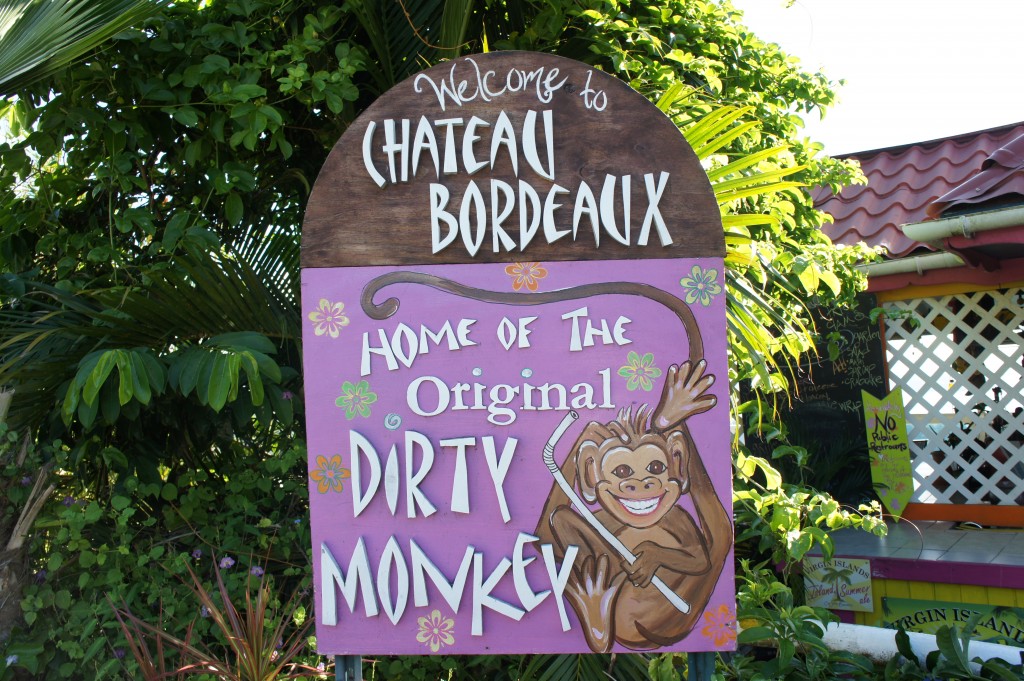 Our first stop, Chateaux Bordeaux, was not yet open for business…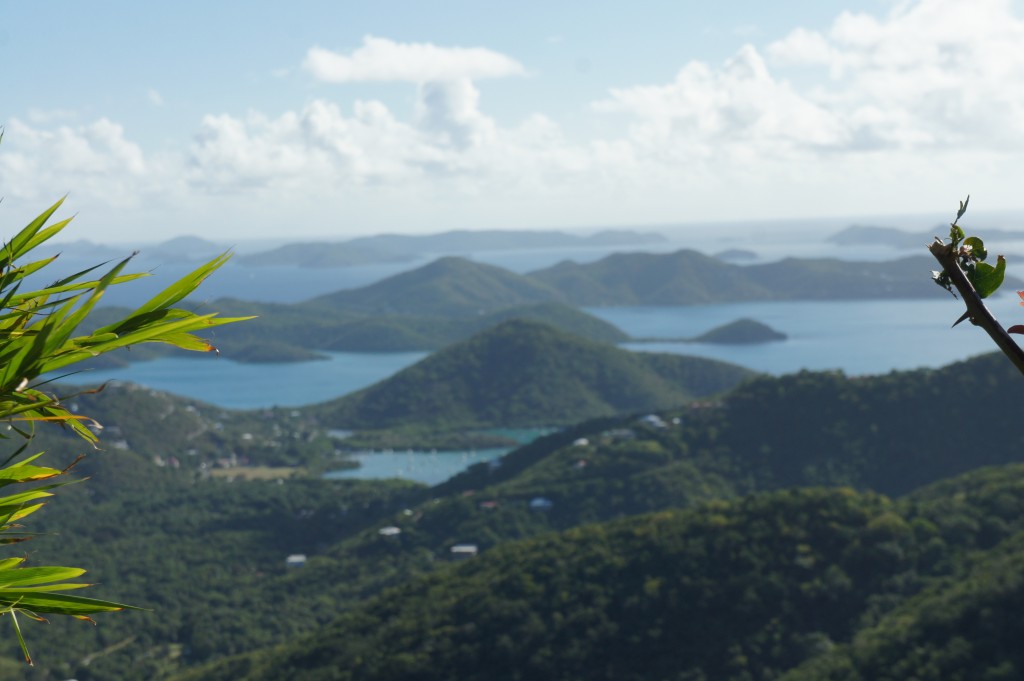 …but still treated us to these lovely seascapes.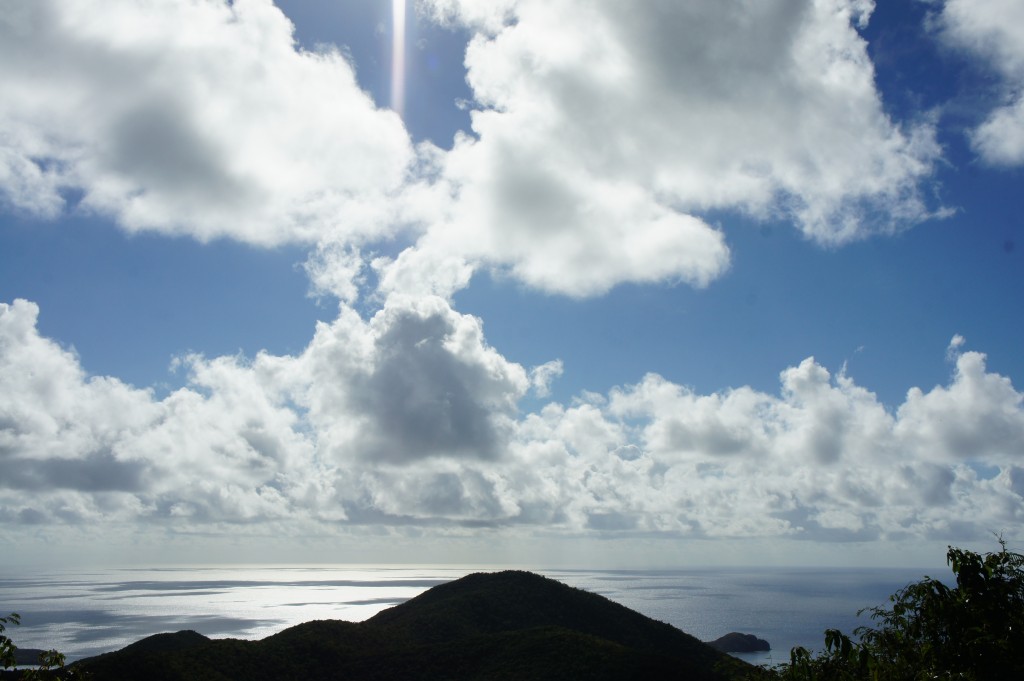 .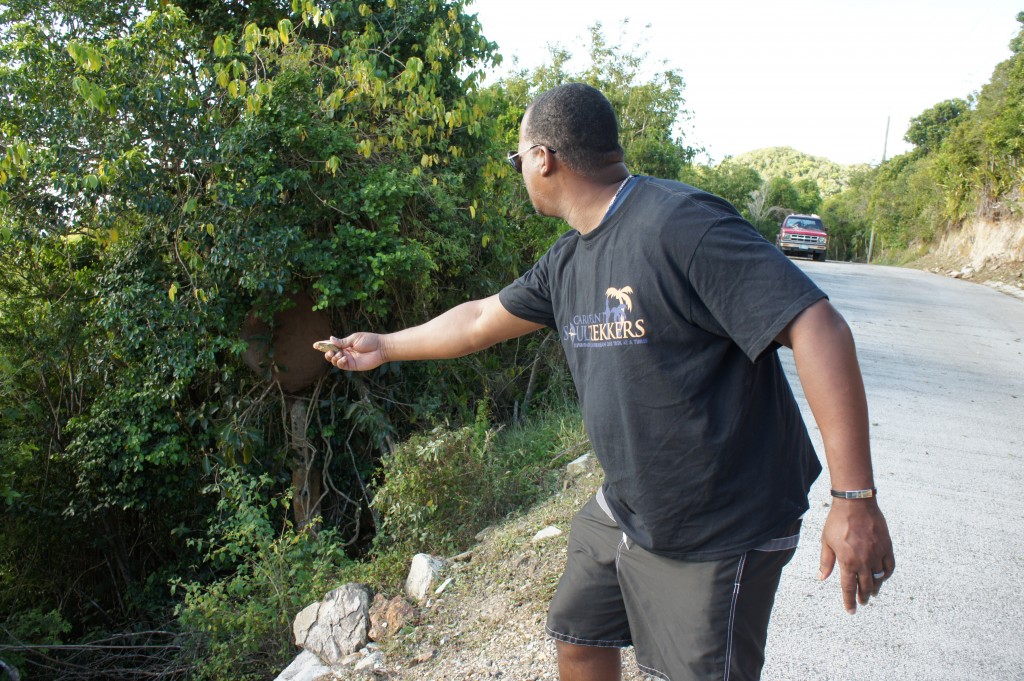 Even while surrounded by all this beauty, Mango Eddie could not resist a mischievous prank. Here he is pretending to disturb…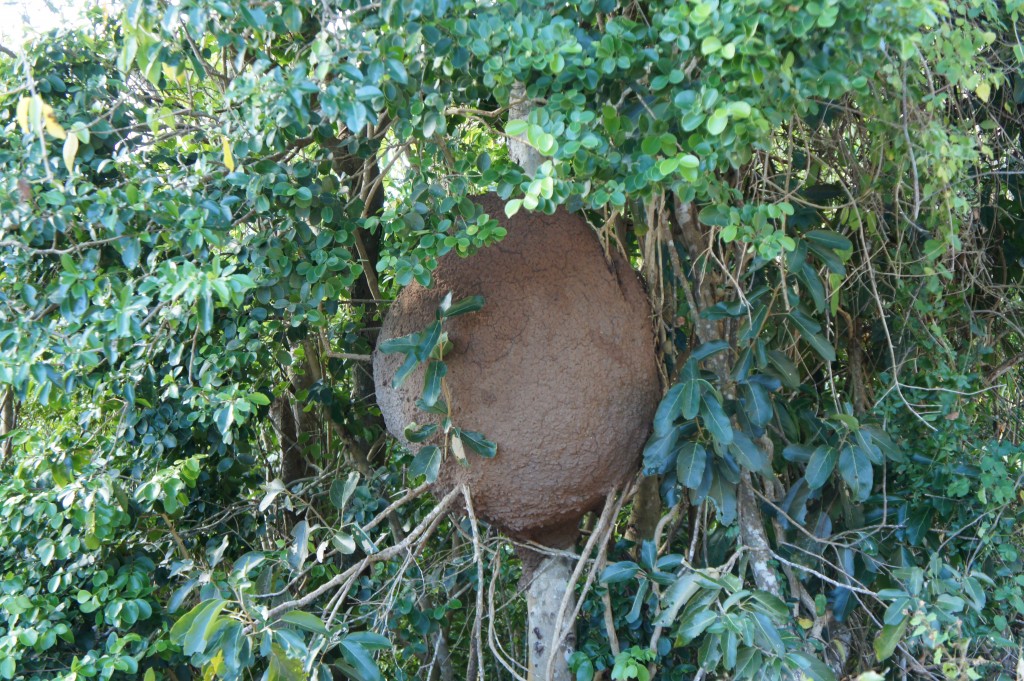 …a nest of termites!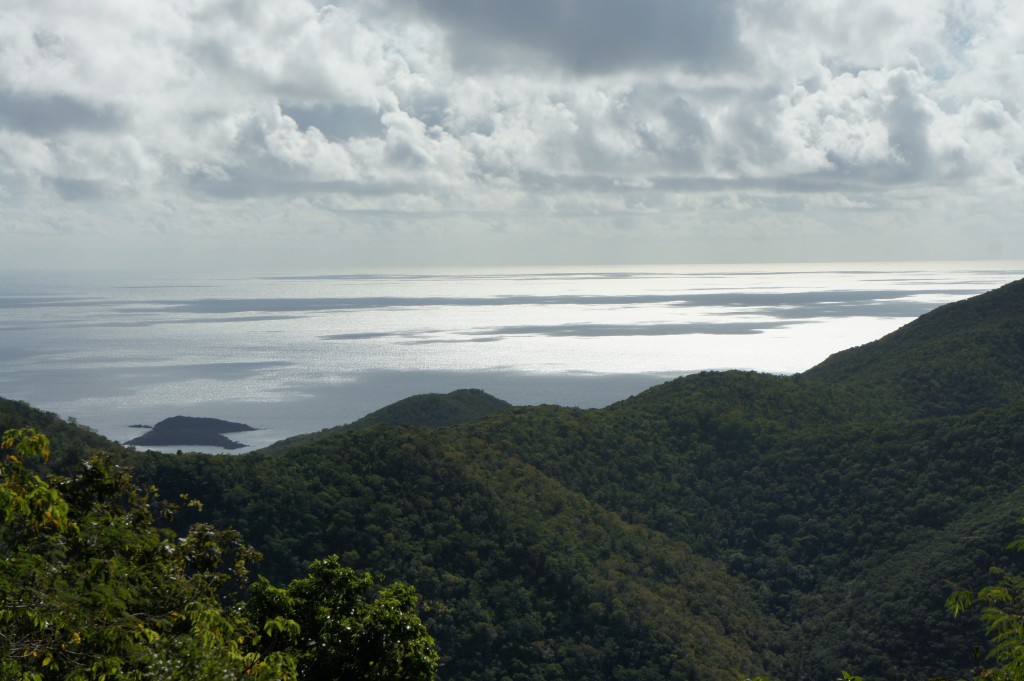 We continued along the breathtaking countryside…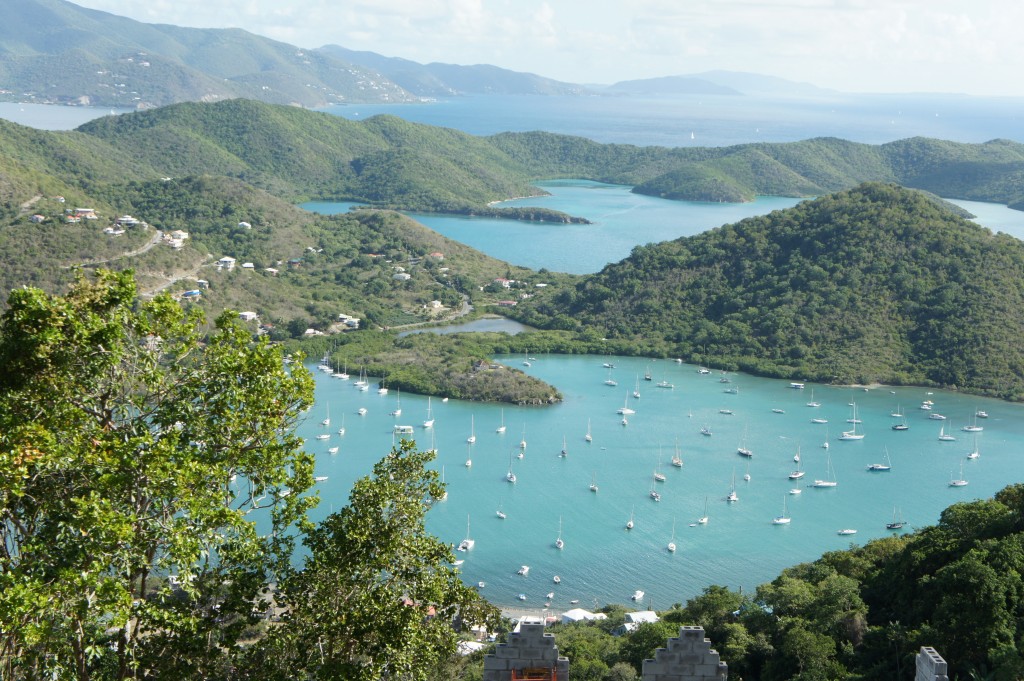 …mesmerized.
A detour through the National Park led to this secluded beach.
Where an assortment of sea fans, sea sponges and seashells had washed up on the shore.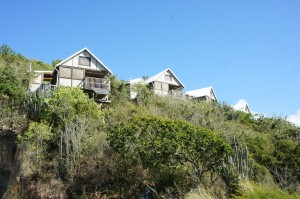 After a morning of sightseeing, we made our first stop at the Concordia Eco Resort…
…where the sheer beauty of everything St. John…
…continued to amaze us…
…and the rum punch was delightful.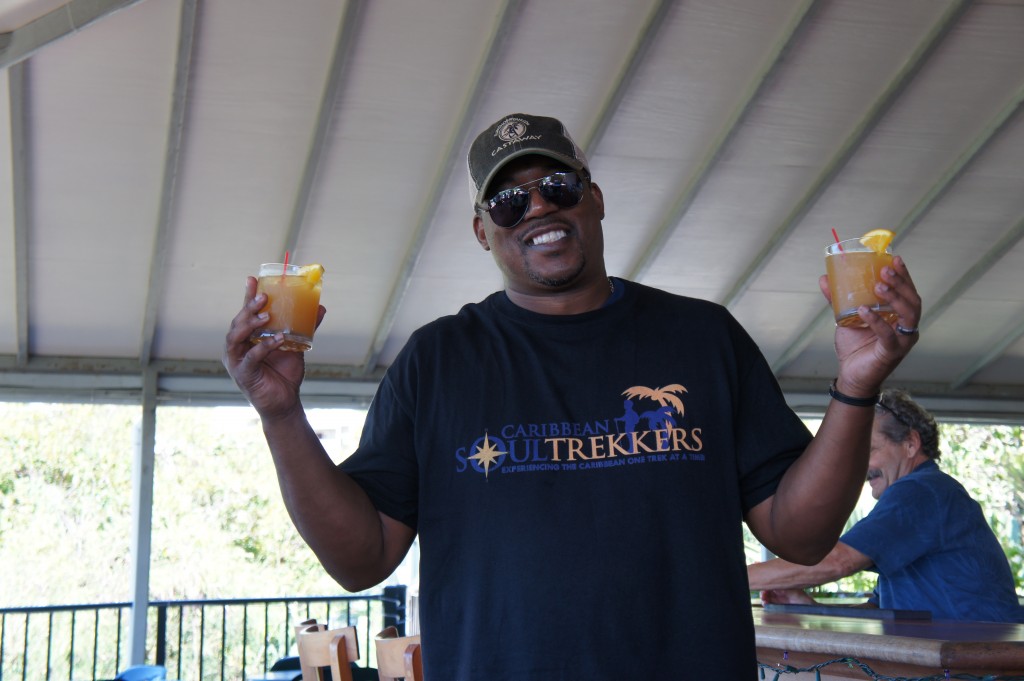 Mango Eddie sure thought so!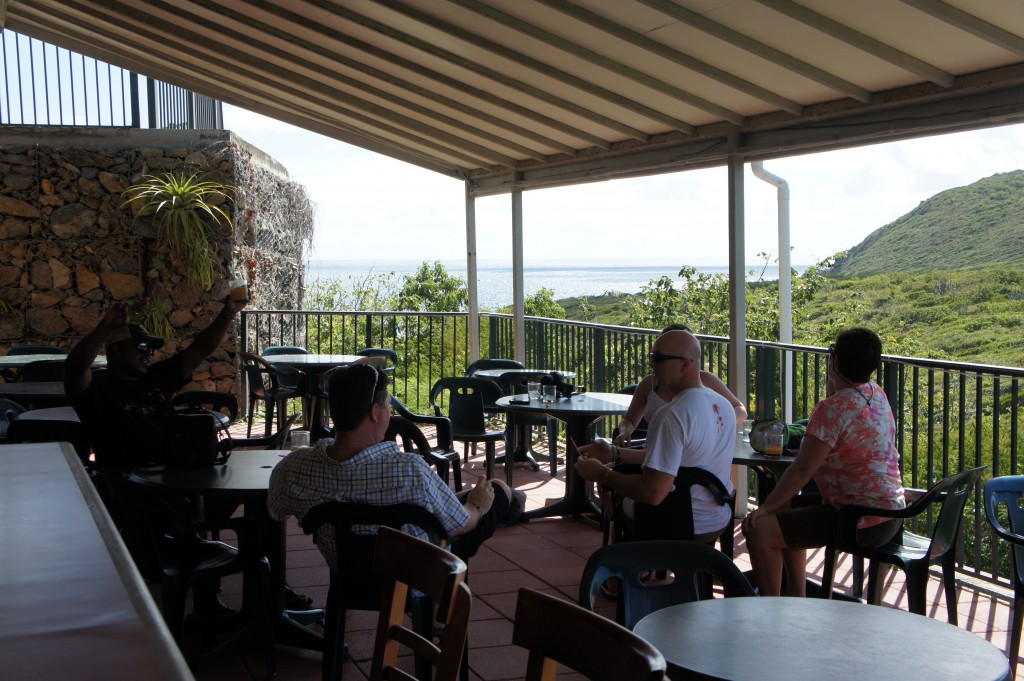 After a relaxing hour of gazing upon the sweeping ocean vistas…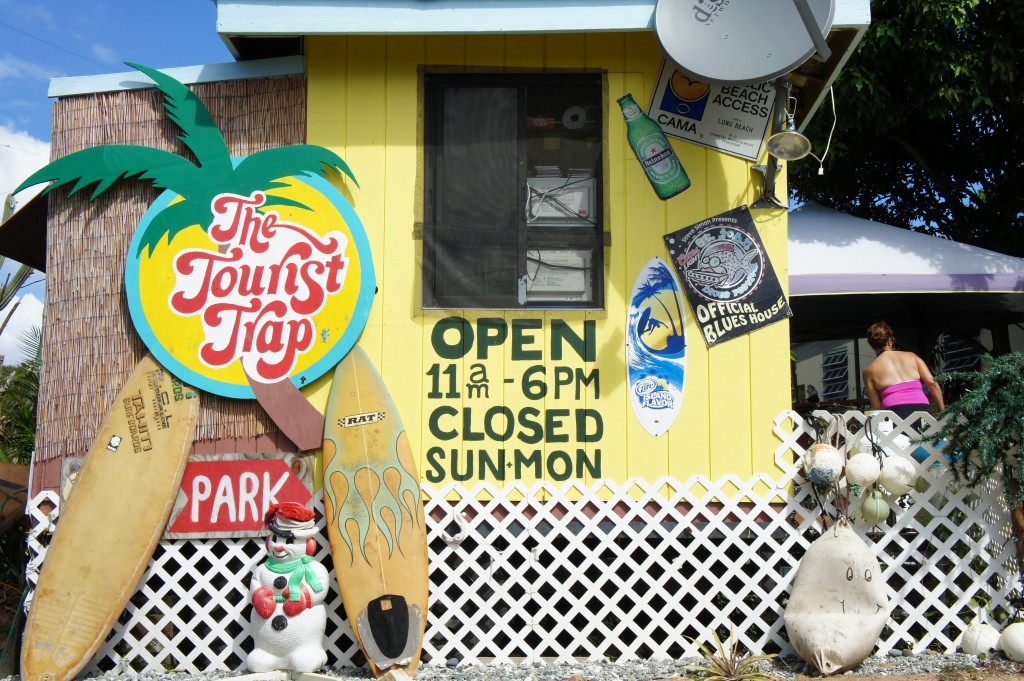 …we continued to our second stop, The Tourist Trap…
…for more light-hearted fun…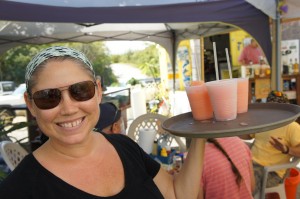 …and rum drinks of course!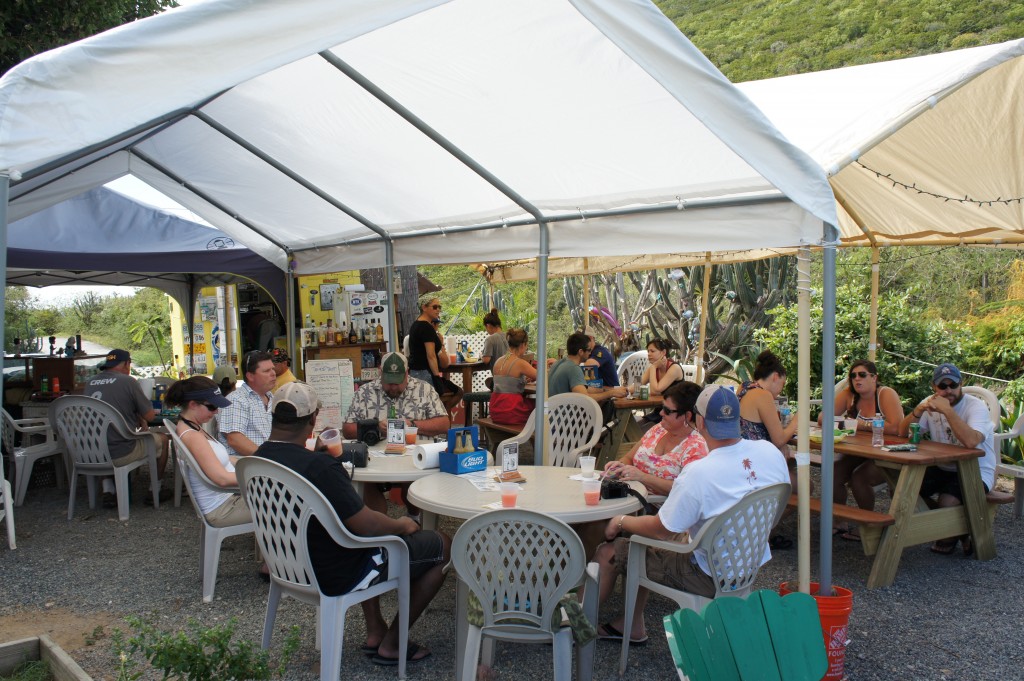 It's a casual place…
…perfect for pulling up a chair to relax while gaining some local wisdom.
(Caribbean Soul Trekkers urges you to drink responsibly!)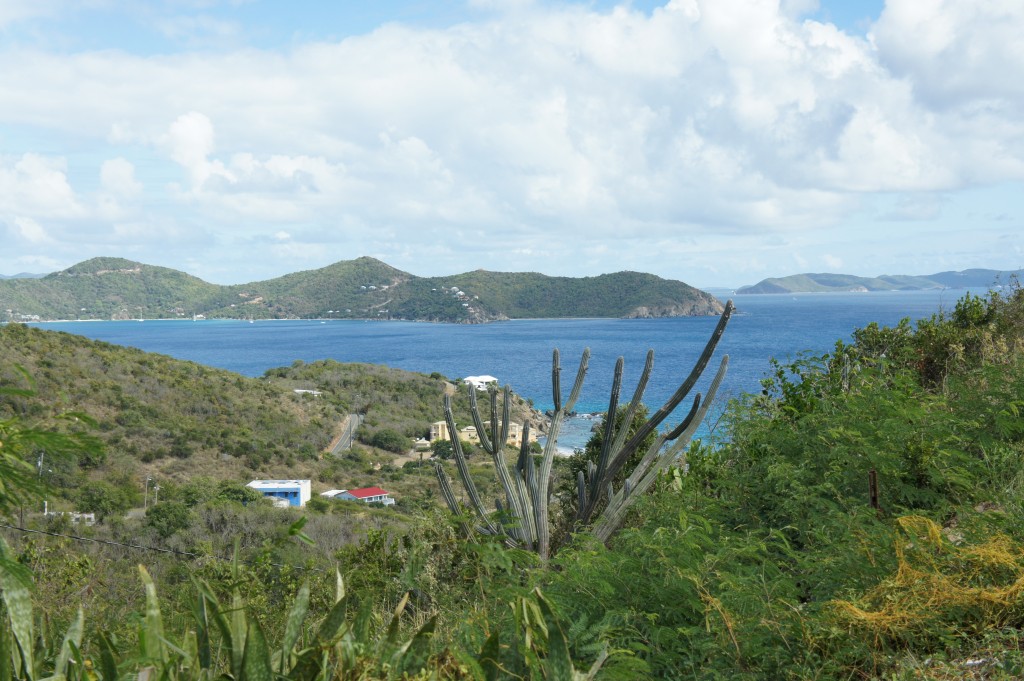 Oh, and in case you were wondering, there's a view from there as well.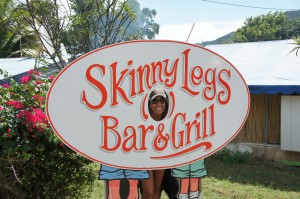 Famished, we continued on to our penultimate stop, Skinny Legs Bar and Grill.
It's "a pretty ok place" in Coral Bay…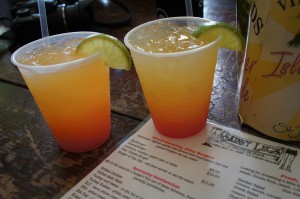 …where the refreshments put smiles on our faces…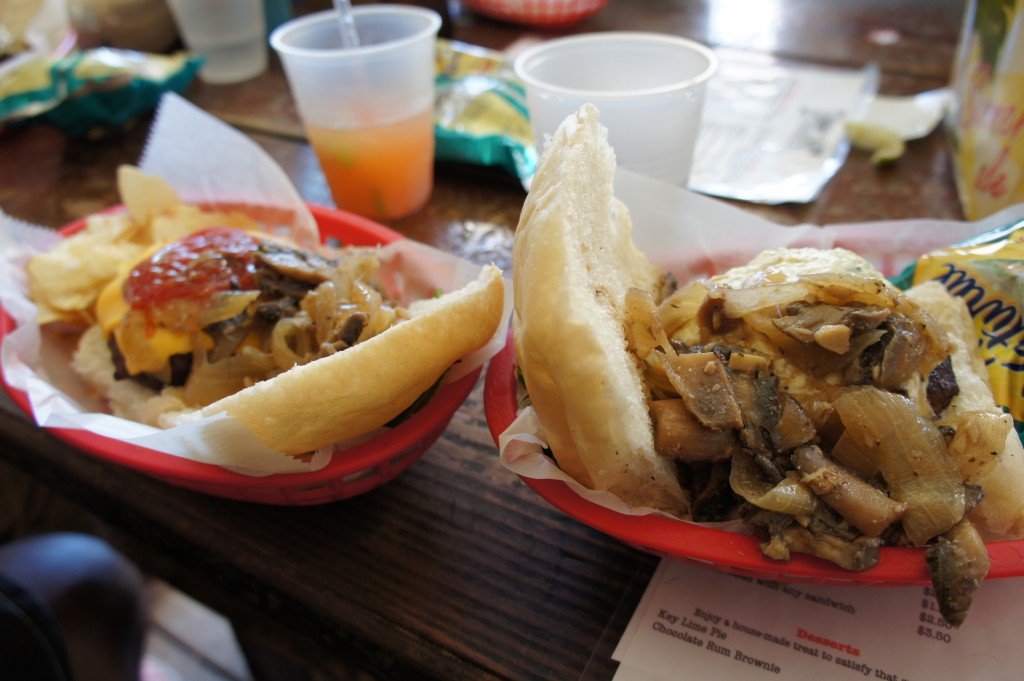 …and the burgers were ridiculously delicious…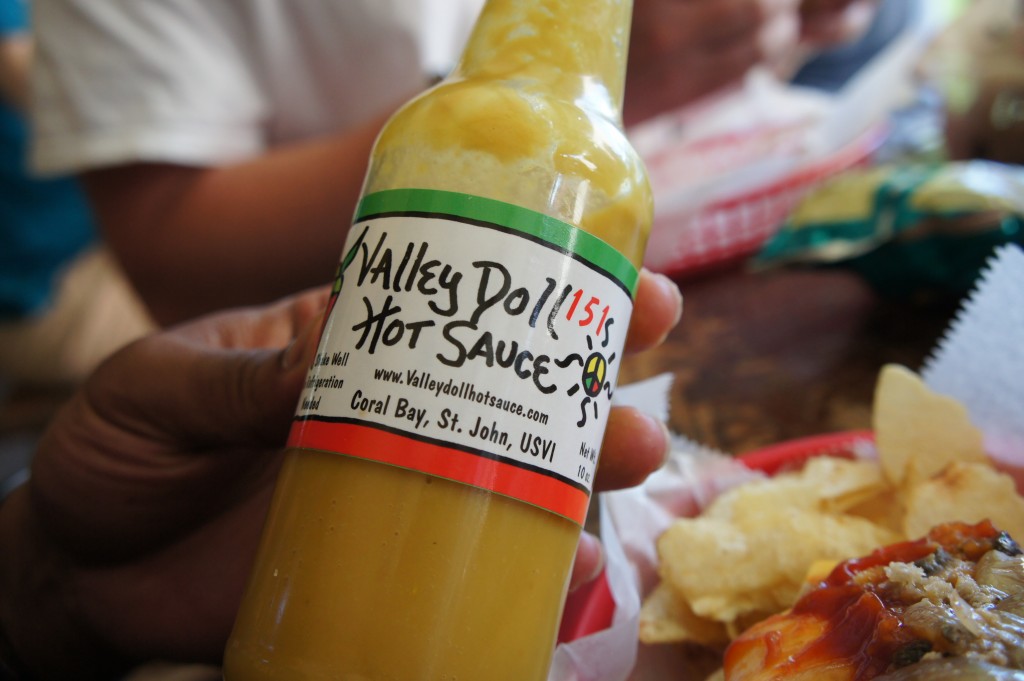 …especially with their 151 Hot Sauce. They must have known Mango Eddie was coming.
Then before we knew it, our trip was over.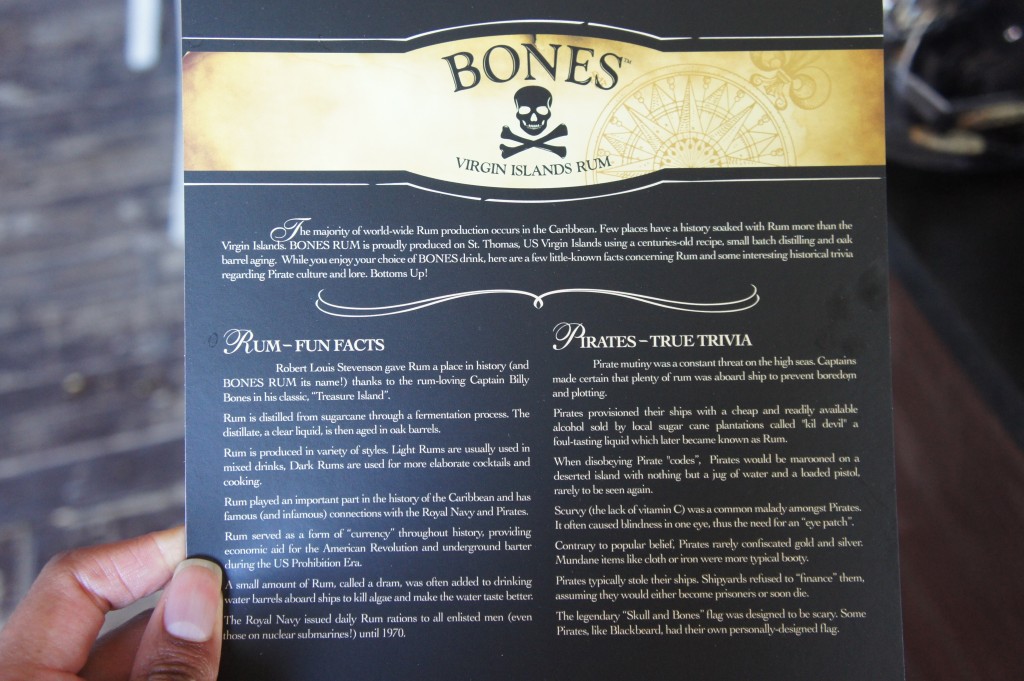 But not before a quick stop at Bones Rum Shop…
…where the management allows you to pour your own rum to ease the sorrows of leaving this magnificent island.