Topper's Gourmet Rhum: Hand Made In St. Maarten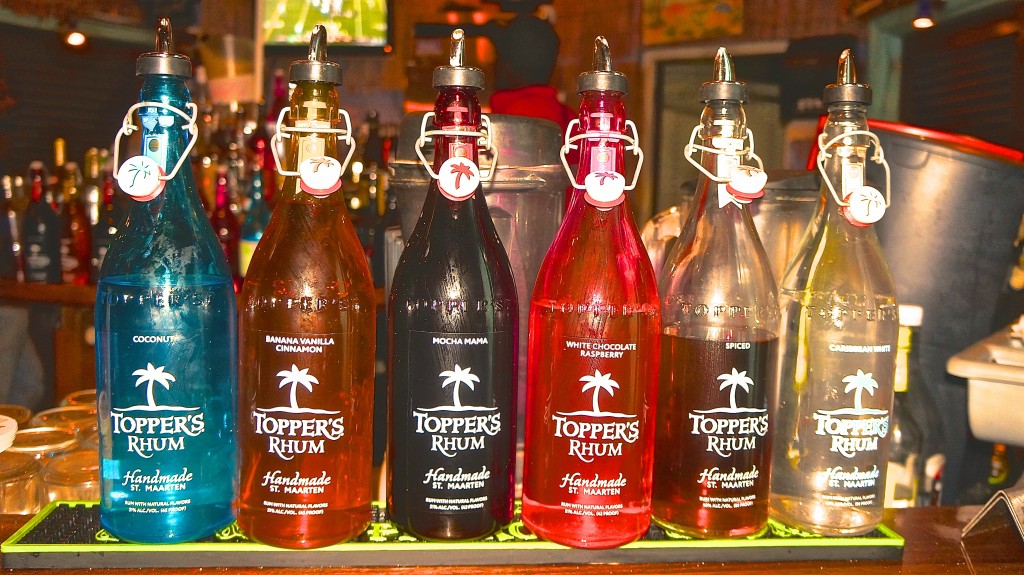 Caribbean Soul Trekkers is excited to spread the word about a unique Caribbean rhum brand already making waves in St. Maarten and South Carolina and gearing up to break into a larger U.S. market. Ladies and gentlemen, here is the story of St. Maarten's very own Topper's Rhum as told by manager and rhum runner extraordinaire, Dave.
Topper's Rhum is brought to you by Topper and Melanie Daboul, proprietors of Topper's Restaurant & Bar and Topper's By the Sea. This unprecedented brand was created in the mid 1990s right in their own kitchen (in a pot on their stove, no less) as Melanie experimented with a recipe for just the right after dinner drink to serve as a complementary thank you to their guests. And, what better to suit their Caribbean setting than rum? But, she had something more than an average rum in mind. And so, Melanie got to work and created Banana Vanilla Cinnamon followed by three other uniquely delicious rhum recipes – Coconut Retriever, White Chocolate Raspberry and Mocha Mama.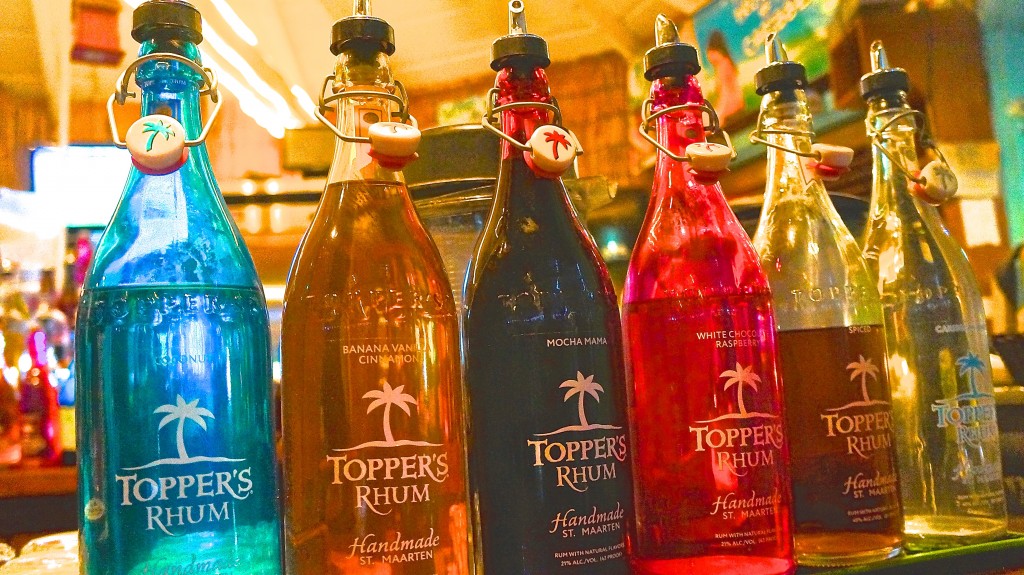 As demand grew, the rhums remained hand made but production expanded to home bottling and finally to a factory in Cole Bay where about sixteen employees currently participate in the hand bottling process from start to finish. Of note, the Topper's franchise (including the rhum production and both restaurants) is now one of the largest employers in St. Maarten (about 200 people in all). "The employees take a lot of pride in what they are doing. They are thrilled to death for stable employment, the chance to provide for their families and to be part of the only export from the island from the ground floor up." And yes, you read that correctly – Topper's Rhum is currently the only product exported from St. Maarten.
For any doubters, we can assure you, these are not your average Caribbean rums. Topper's Rhums are gourmet, sipping rhums with distinct flavors and an unbelievably smooth finish. They are made from natural flavors blended with premium Caribbean rhum. Straight from the bottle, blended into a delightful cocktail (check out some recipes here) or even as part of a food recipe (coconut shrimp, anyone?), these rhums should be a welcome accompaniment to special (or ordinary) occasions. They taste great and look good too, packaged in colorful glass bottles capped by a flip top inspired by the old Caribbean style and the palm tree design. And for convenience, they are sold in large bottles or 4 packs of 750 ml, perfect for packing in your carry on bag.
But, don't just take our word for it. Critics have spoken as well. Topper's Rhums were featured as the signature drink at the Crystal Pineapple Awards (St. Maarten Hospitality & Trade Association) and have won gold medals including the Ministry of Rum contest and the Wine and Spirits Wholesale Association competition. "It's been an exciting story to see everyone embrace the rhum" says Dave. "This unique rhum has won over guests who insist they are not rum drinkers then leave the restaurant with a case of rum saying this is not rum." Impressive.
Melanie continues to try new and exciting flavors like Creamsicle, Peanut Butter and Jelly, Creme Brûlée and Pumpkin. Spiced and Caribbean White are the newest additions to the product line. Though every flavor does not make it to consumers, some are distributed seasonally. "The goal is to have eight to ten standard rhums plus seasonal rhums for special holidays like Christmas, Valentine's Day and Thanksgiving."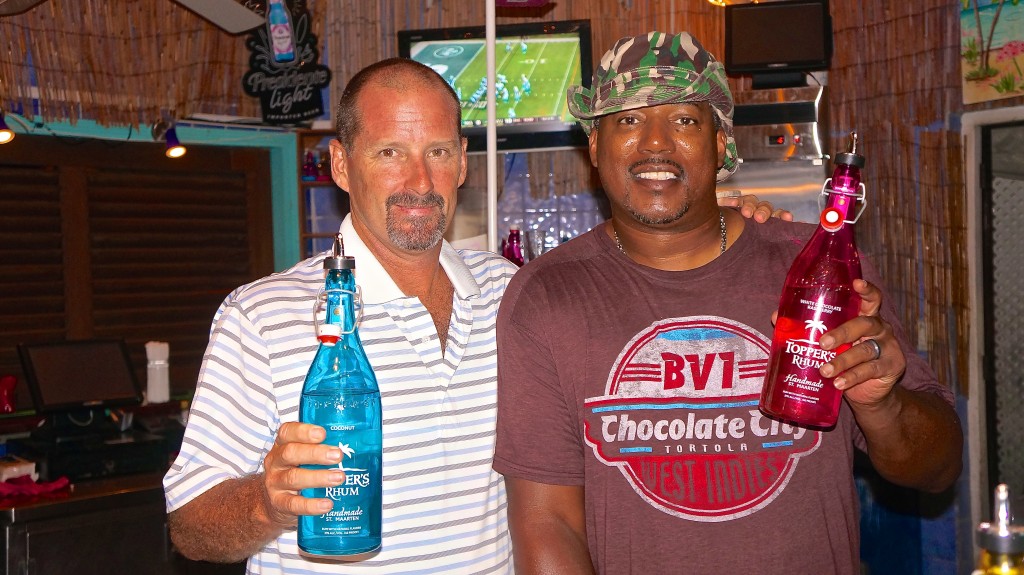 "Time Flies When You're Having Rhum!"
Just as the product line has expanded, so has production itself. Topper's is featured at both Topper's Restaurants, has made its way onto shelves of several St. Maarten stores, and is even sold at the airport where tastings are offered too. "They can't keep this on the shelf." In January 2013, Topper's Rhums began exporting to South Carolina. Georgia and Florida are slated for the near future. "The goal in the next 24 months is to expand distribution to Canada and U.S. where the majority of their customers are visitors from."
Topper's also plans to expand its customer experience in the near future. Look for them to start tours and interactive experiences at the factory, provide cruise ship tastings and offer private labeling to resorts. Dave beams with pride when he projects that guests will be able to "enjoy award winning food and rum – a full culinary experience. It's going to be an exciting 24 to 36 months."
Check out Topper's Rum YouTube Channel here: