Trek Stop: Dushi Bagels and Burgers & Burgers in Aruba – One Last Happy Meal Before Take Off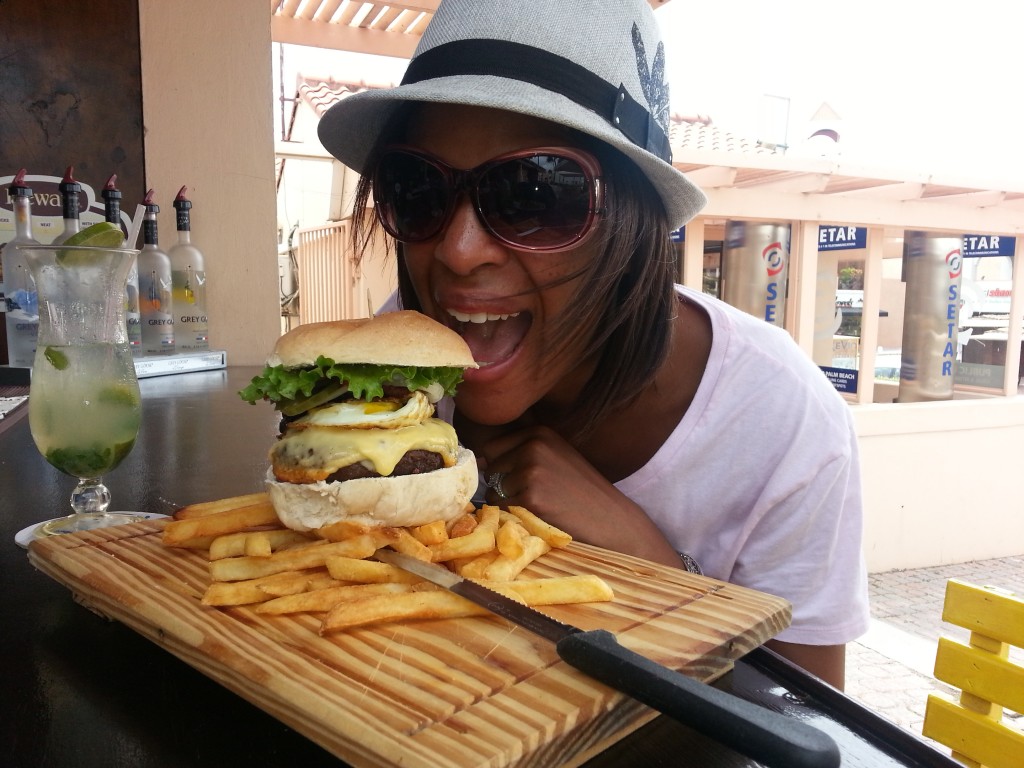 Dushi Bagels and Burgers & Burgers is an ideal spot for a no-fuss, budget-friendly breakfast, lunch or dinner steps away from Aruba's fun-filled Palm Beach. We found it to be a great place to grab one last, happy breakfast before rushing off to the airport for departure.
Here's our review of Dushi Bagels and Burgers & Burgers.
Located in front of the Playa Linda Resort, Dushi Bagels and Burgers & Burgers is combination bakery, grill and bar. Guests dine on a sun-bathed terrace where tables are covered by large umbrellas bearing the bold Dushi Bagels logo. Additional seating is available at the bar. From our seats there we had a convenient platform to sip fresh mojitos, people watch and reminisce over the highlights of our Aruba vacation while the signature Aruban breeze tickled our skin one last time.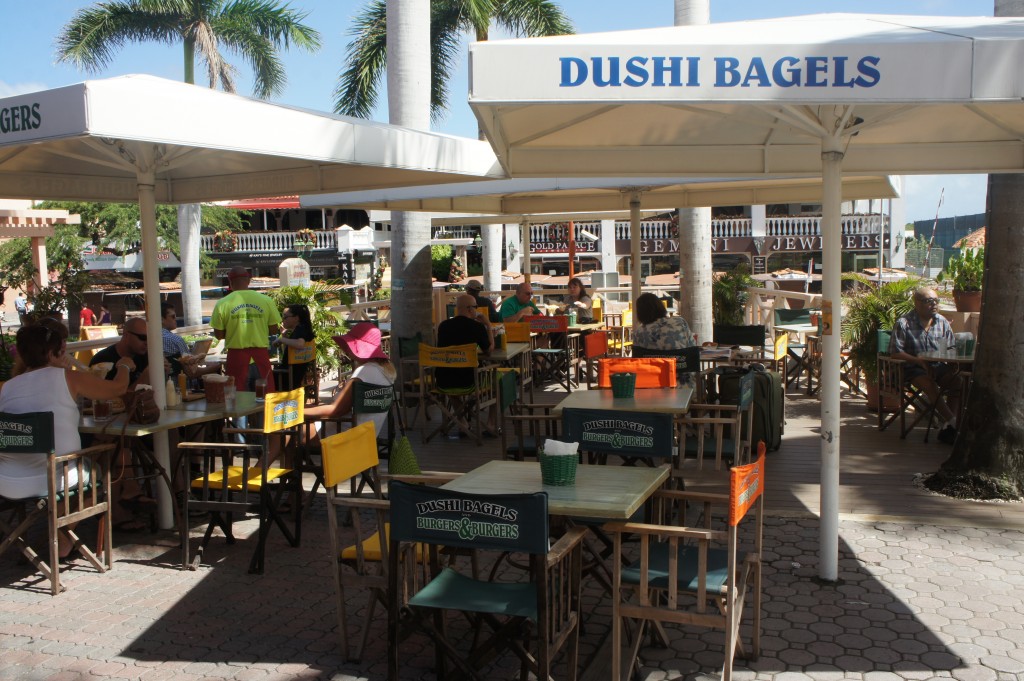 Dushi Bagels and Burgers & Burgers' terrace
By late morning, the kitchen was prepared to serve items from the breakfast, lunch and dinner menus (here, breakfast and Wi-Fi are served all day long). Options included freshly baked New York-style bagels, made to order omelets, fresh fruit, sandwiches, wraps, burgers, chicken, steak and fish. With such a large selection, we had no trouble creating just the right meals by which to remember our vacation to Aruba. For Mango Eddie, that was a plate of succulent fried fish and chips. And, for me, it was Super Charlie's burger – a prime beef patty topped with bacon, cheese and a fried egg. I'd call that a breakfast of champions!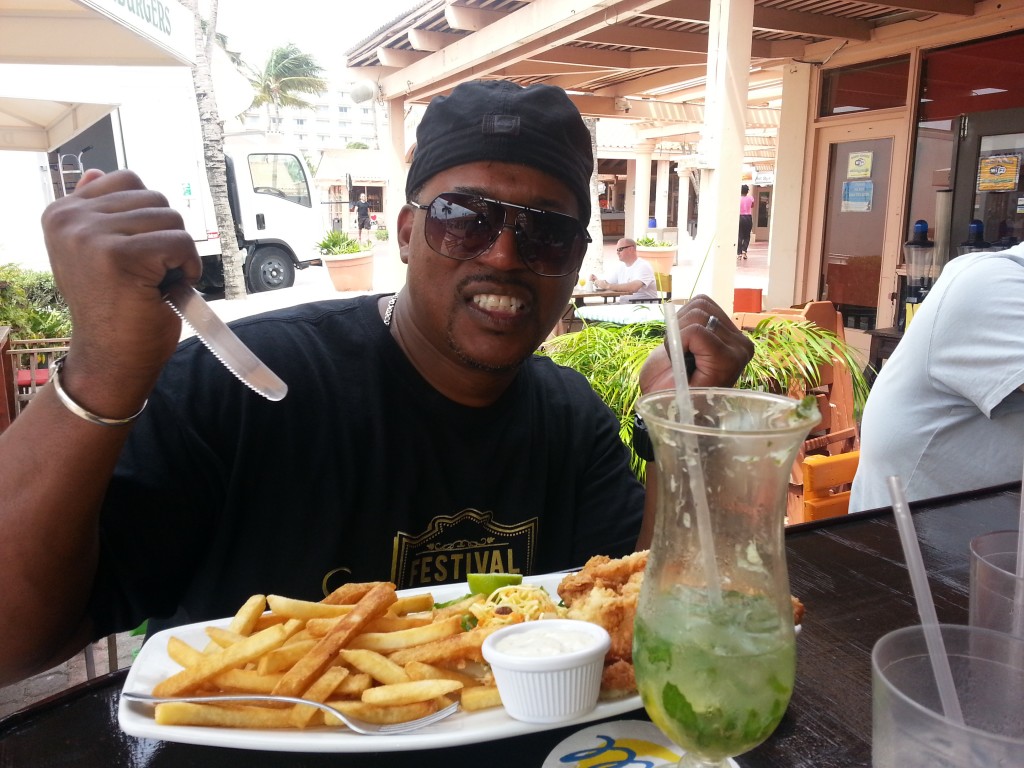 Mango Eddie getting ready to tackle a fish and chips platter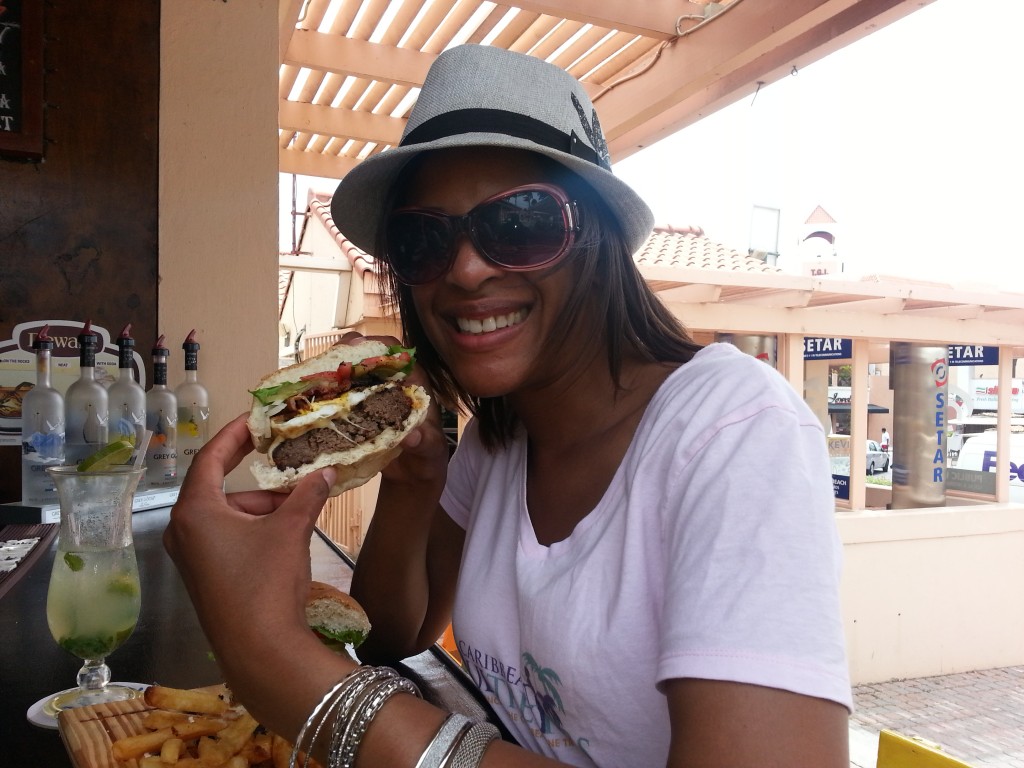 Getting ready to tear into Charlie's Burger – a true breakfast burger topped with bacon, egg and cheese!
The drink menu at Dushi Bagels Burgers & Burgers is just as varied, offering something to suit many tastes. Along with juices, teas and coffee; fresh-fruit smoothies, beers and cocktails are also available to enhance your meal. And for all your pirates out there, mojitos go very well with a breakfast burger (just be sure to drink responsibly).
Carinna serving a fresh mojito for our last breakfast in Aruba
All of this was served by a charismatic young woman named Carinna. Like many of the Dushi Bagels and burgers & Burgers' servers, her friendliness completed a great meal.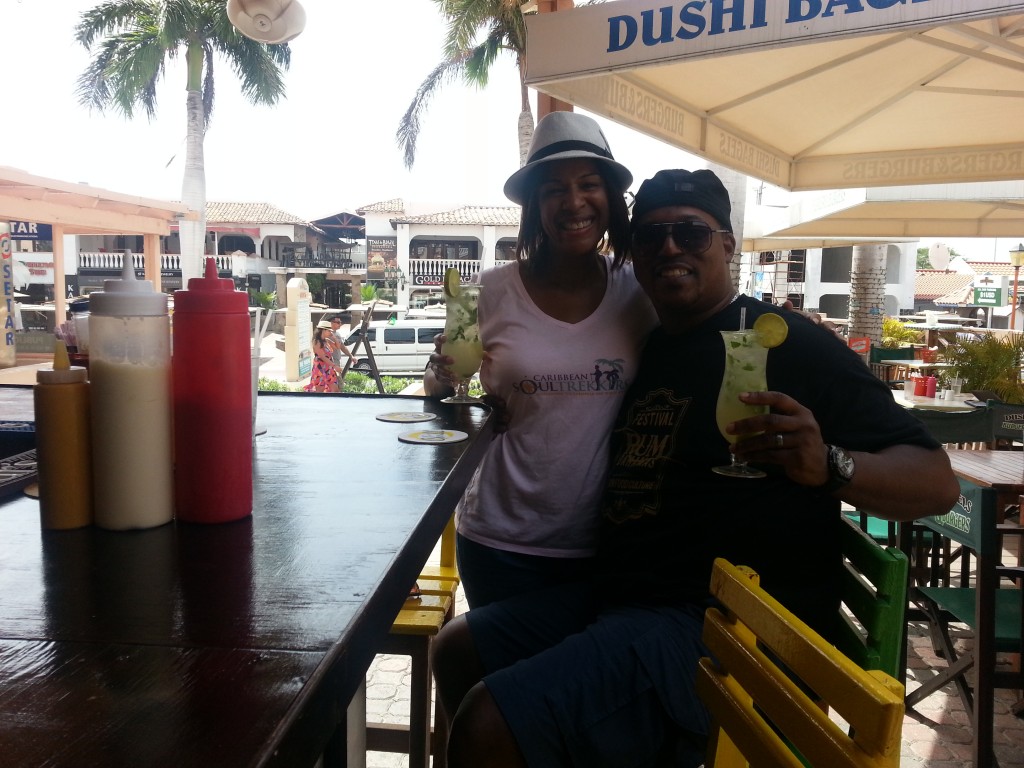 Caribbean Soul Trekkers agree that Dushi Bagels and Burgers & Burgers is an amazing place for a happy breakfast, lunch or dinner to ease the pain of leaving  paradise or just to enjoy a good meal on One Happy Island!
Cheers!