Trek Stop: Foxy's Taboo in Jost Van Dyke – We Forbid You to Miss This Place!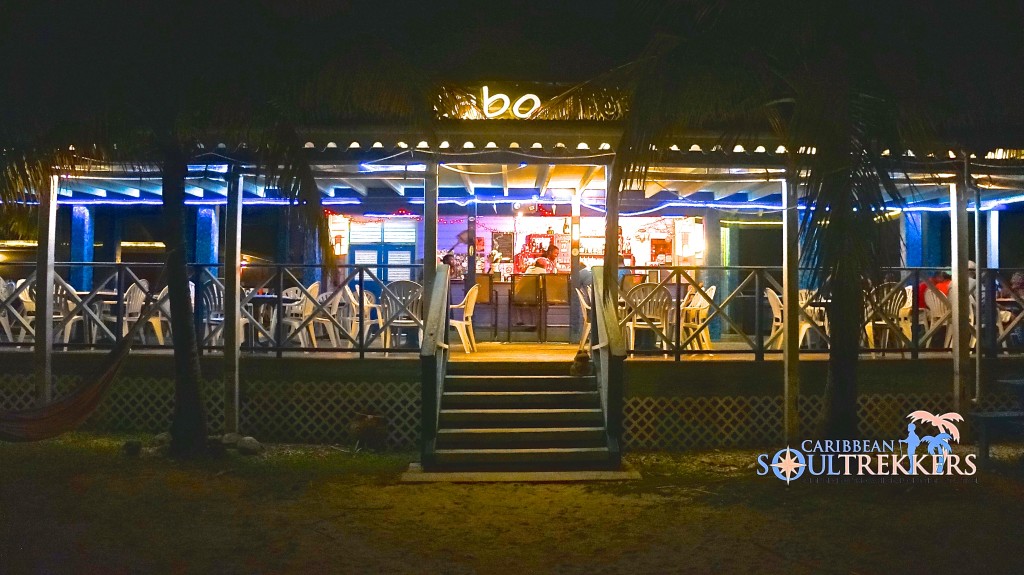 Foxy's Taboo after dark
Foxy's Taboo in Jost Van Dyke is an offshoot of the wildly popular Foxy's Bar and Restaurant and the obvious lunchtime stop for those trekking over to nearby Bubbly Pool. But, this charming venue with an innovative Mediterranean-Caribbean dinner menu should certainly be sought out by anyone traveling through the British Virgin Islands. Here's why: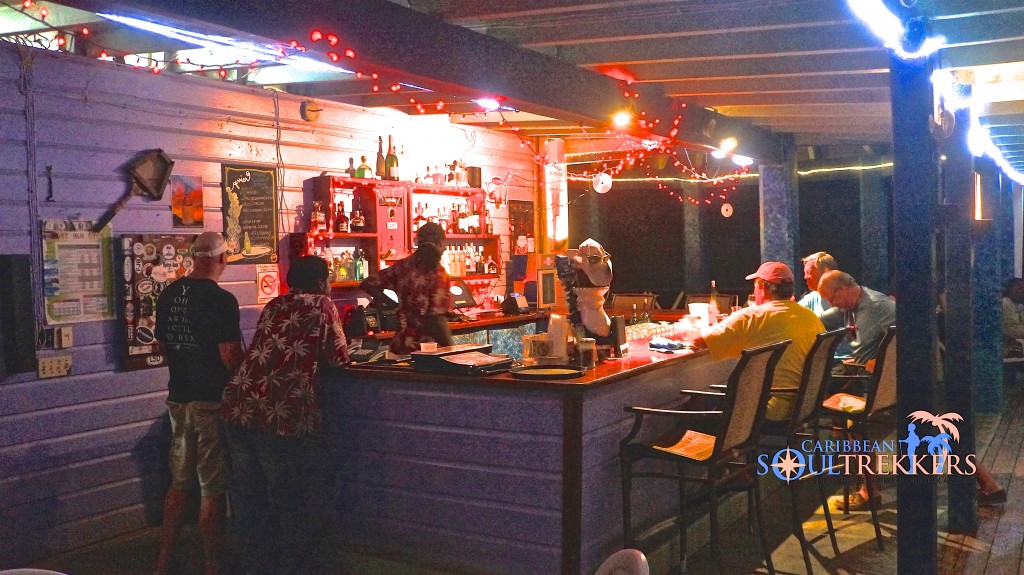 Limin' at the laid-back bar at Foxy's Taboo
Foxy's Taboo sits along the shore of serene Diamond Cay. Strings of twinkling lights, a laid-back bar fit for relaxing, al fresco seating, ocean waves lapping against the nearby shore and a traditional island cat fast asleep on the porch contribute to its ambience and make it the perfect setting to enjoy a leisurely dinner in the Caribbean.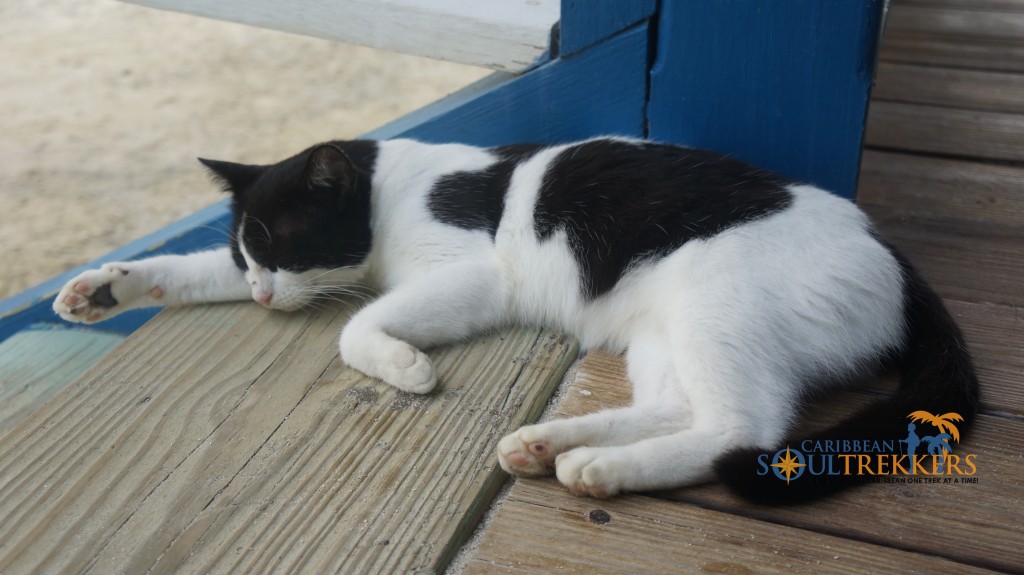 Sleeping cats like this one at Foxy's Taboo are a staple of any legitimate Caribbean beach bar. Meow!
On staff that night were Mark and Darren, two warmhearted guys who gave us pointers on the menu's highlights, kept our group entertained with friendly chatter and even allowed us to pipe our music playlist on the overhead music system.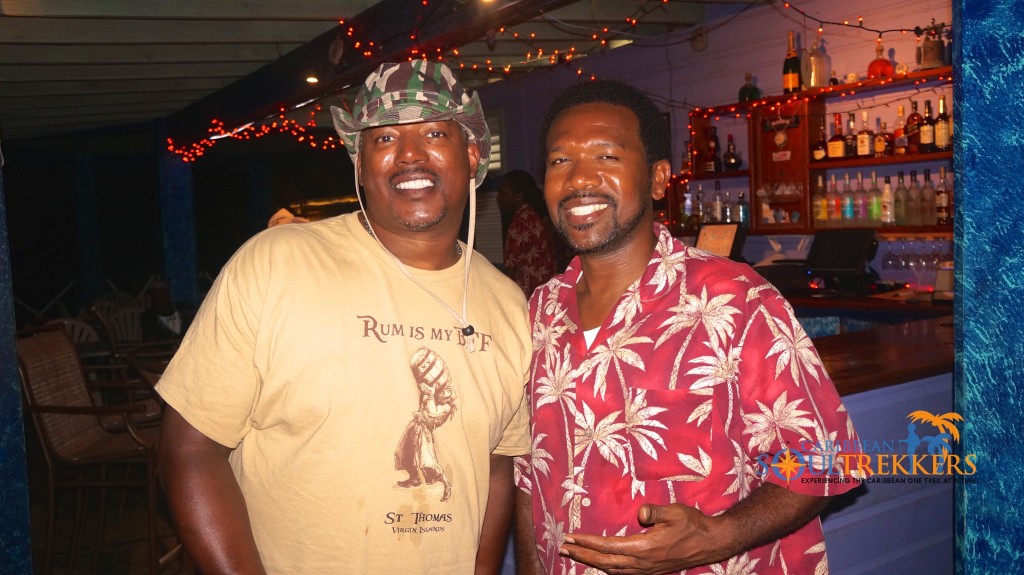 Mango Eddie coolin' with Mark
The drink menu featured beer and a variety signature rum drinks from Foxy's menu but we were so smitten by the Friggin in da Riggin – Mount Gay rum frozen with mango and banana then topped with Goslings dark rum – that we weren't interested in trying anything else. Ditto for our visit there the following day.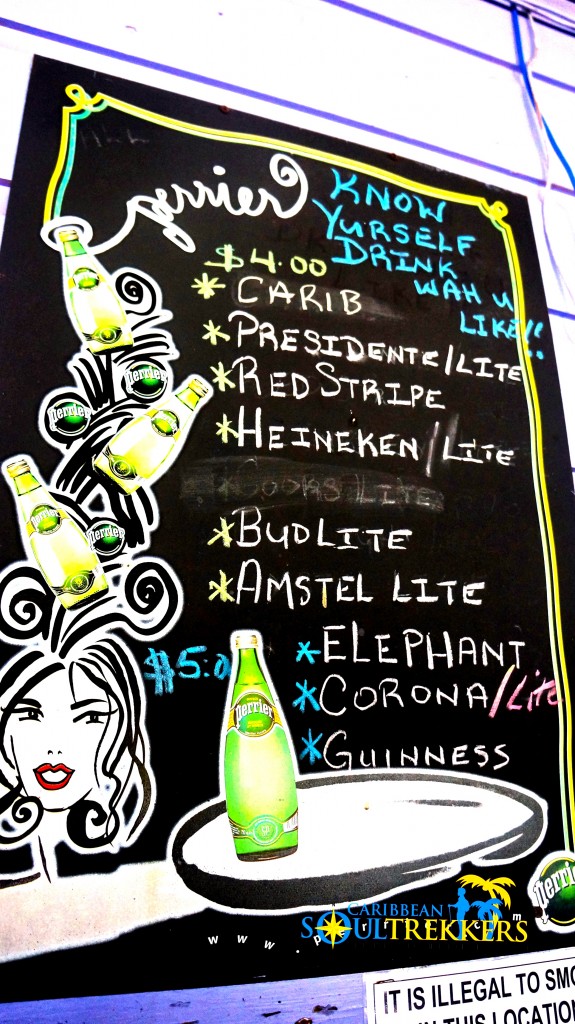 Another one of those unique Caribbean drink signs at the bar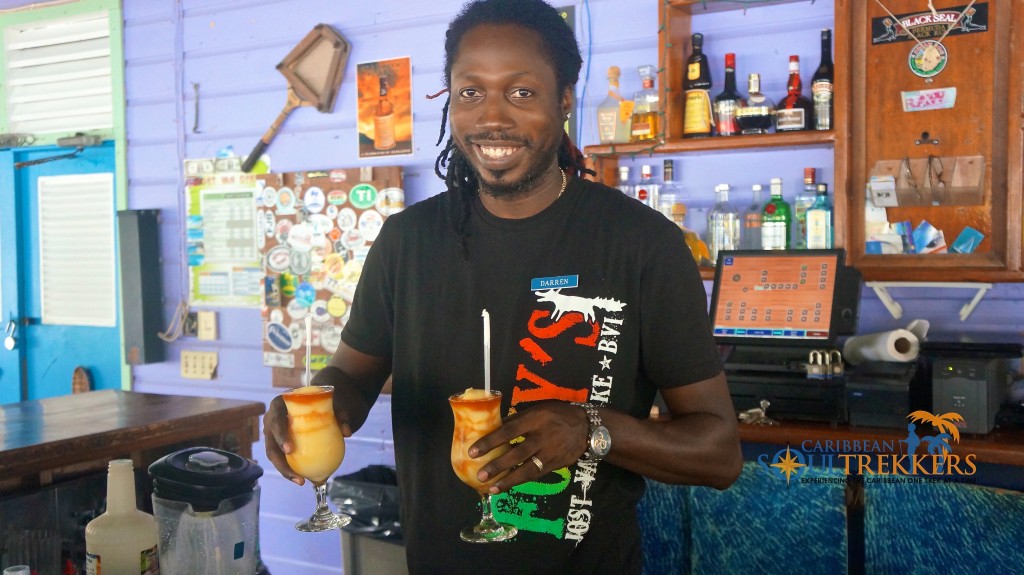 Darren handing off the first of many Friggin in da Riggin cocktails to our raucous crew!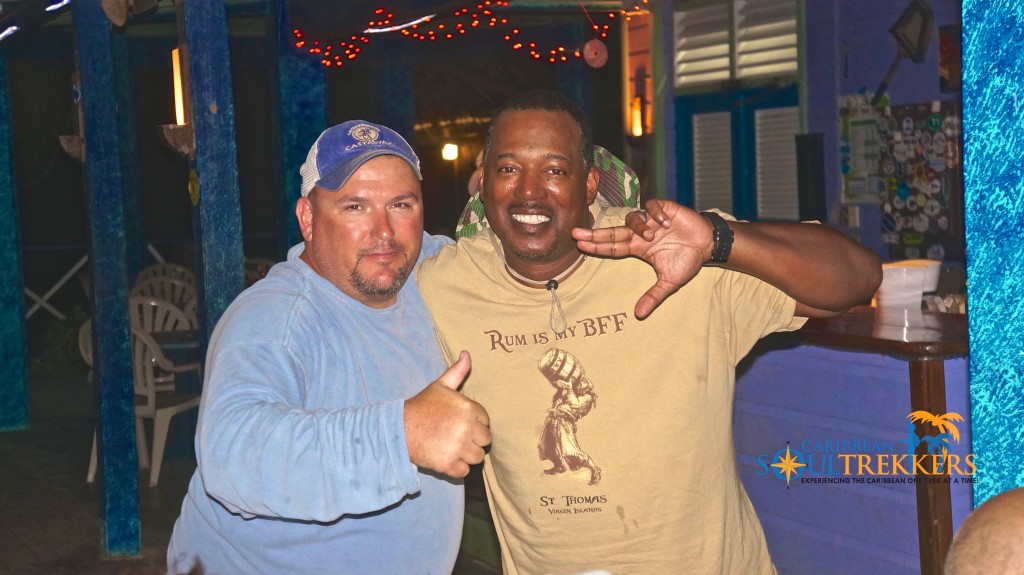 Mango Eddie with Andrew "Drew" Sutton from Southern Shore BBQ
At Foxy's Taboo, the imaginative and skilled chef, Kirt, has created a dinner menu that successfully fuses Mediterranean flavors with distinct island twists. The divine Eggplant Roasted Garlic Cheesecake appetizer was airy, immensely savory and simply irresistible. It begged for everyone at the table to sample a bite (or two or three). For dinner, part of our group chose the grilled Mahi special. Well-seasoned and succulent, our group had no complaints. The rest ordered the Creamy Coconut-rum Shrimp Over Linguine and fawned over its dreamy, cream sauce – similar in color and consistency to Alfredo but absent of salt and uniquely flavored with a hint of coconut to complement the delicate sweetness of the shrimp. In the words of a dinner companion, this dish was "Delightful".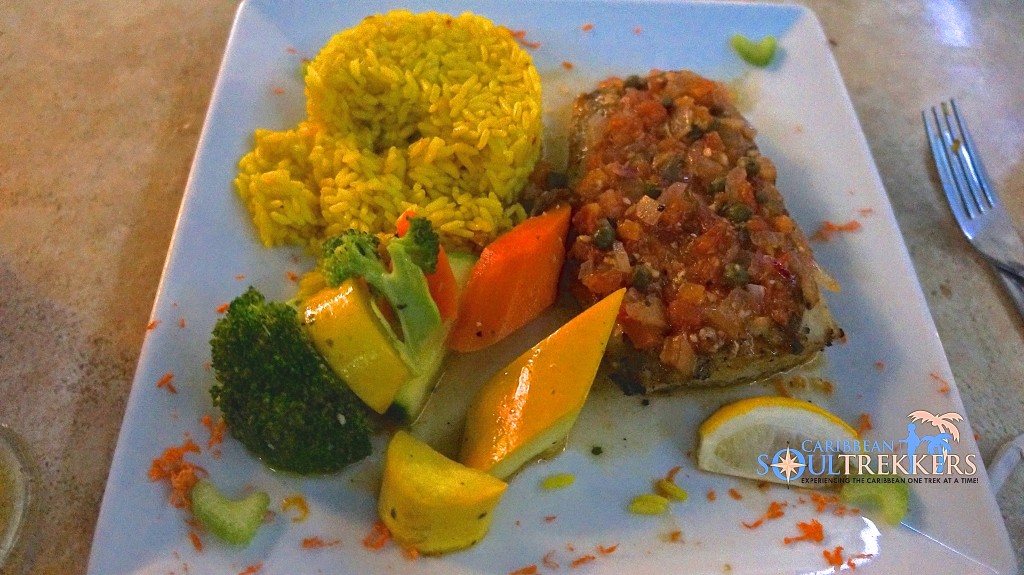 Grilled Mahi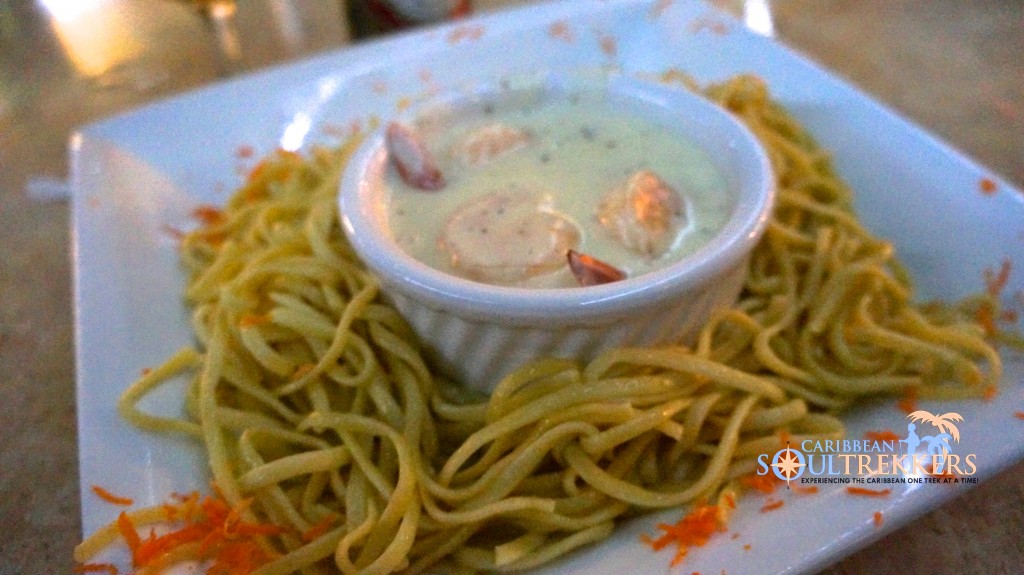 Creamy Coconut-rum Shrimp Over Linguine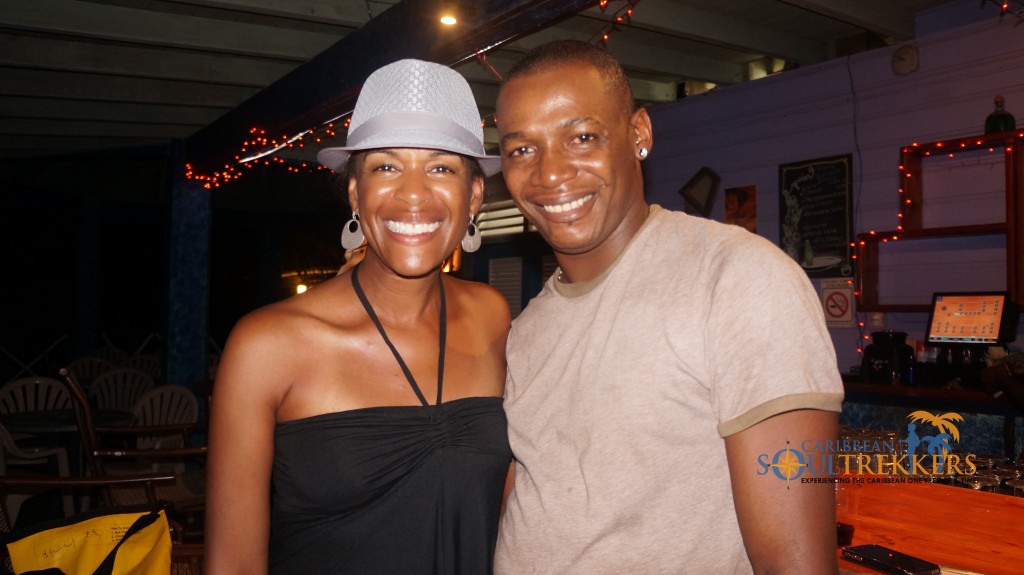 Passionfruit Sista with Foxy Taboo's awesome chef, Kirt
In fact, delightful accurately describes our whole experience at Foxy's Taboo. A charming setting, some of the most delicious food on our BVI sailing trip and great hosts make this one place we forbid you to miss when visiting the BVI.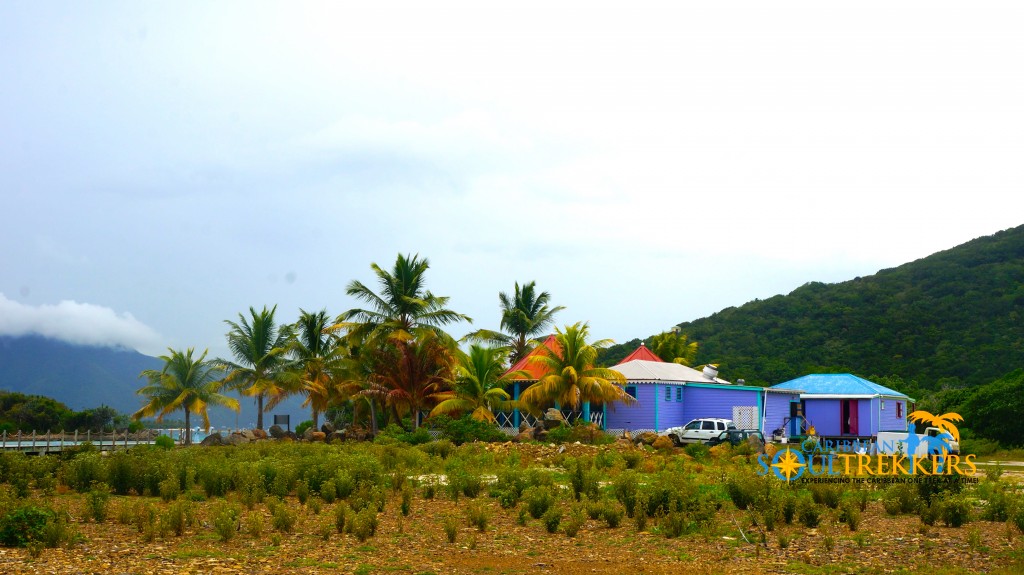 Foxy's Taboo is located on Jost Van Dyke's Diamond Cay
It opens for lunch at about 11 am.
For more details, check out their website here.