Trek Stop: Sit Back and Enjoy Modern Sophistication at Aruba's White Modern Cuisine (Review)
For our umpteenth trip to Aruba (Mango Eddie just can't seem to get enough) I was determined to finally visit the highly acclaimed White Modern Cuisine. After all, eating is my second favorite activity in Aruba and this place promised to indulge me in everything I hoped for in a fine dining establishment – avante garde dishes made from the finest ingredients, expertly paired wines, innovative cocktails and a cutting-edge venue where you are encouraged expected to savor your dining experience slowly. It was a lot to wish for and as our trip grew nearer I consciously began to lower my expectations in order to avoid utter disappointment. Questions like could a dining venue located on the second floor of a mall really deliver an authentic upscale experience? could such pretty food really be that tasty? would the atmosphere be too stuffy for us to really relax and enjoy? would we need to swing by McDonald's before heading back to the hotel? intruded into my fantasies of the place like sandflies at a day on the beach.
.
Fortunately, White Modern did not disappoint.
.
Once we entered the space and the doors closed behind us, the hustle and bustle of the shopping mall outside faded away. A monochromatic color scheme, upscale decor, sultry music and dim lighting convincingly transported us to a place of modern tranquility and bound us in a spell that lasted the duration of our enjoyable and very relaxing evening.
We quickly found that servers were friendly and attentive but unobtrusive. They magically appeared when we needed them and disappeared when we didn't. As impressive as this was, I was most appreciative of their enthusiasm and expertise – very helpful in guiding us through the intriguing food and drink options.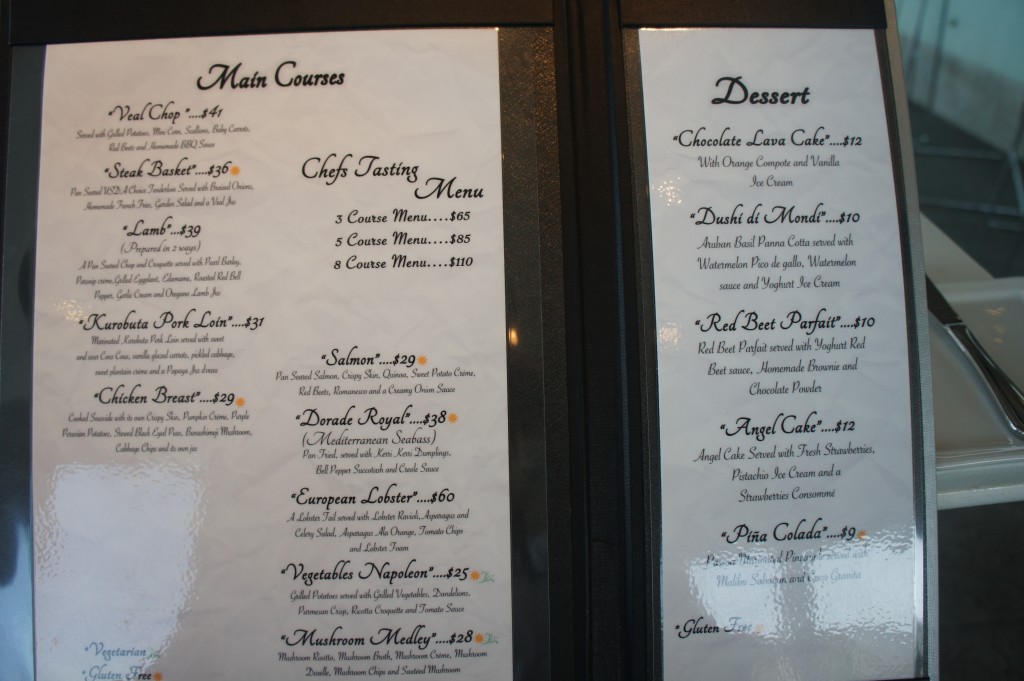 A solid selection of wines and creative cocktails were offered. Exotically named drinks like Pink Panther, White Pomme Brulee and Vanilla Skye were tempting but I found that I could not resist the sound of the Mojito White. When it arrived, I was rewarded with a blushing pink cocktail of grape vodka, lime juice and mint capped off with carrot juice foam and passion fruit "caviar". Sip after sip delivered a memorable interpretation of a familiar classic and was good enough for seconds.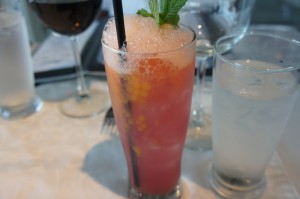 Fortunately for us, that evening's drink menu also included a White Modern Cuisine special – home made orangecello.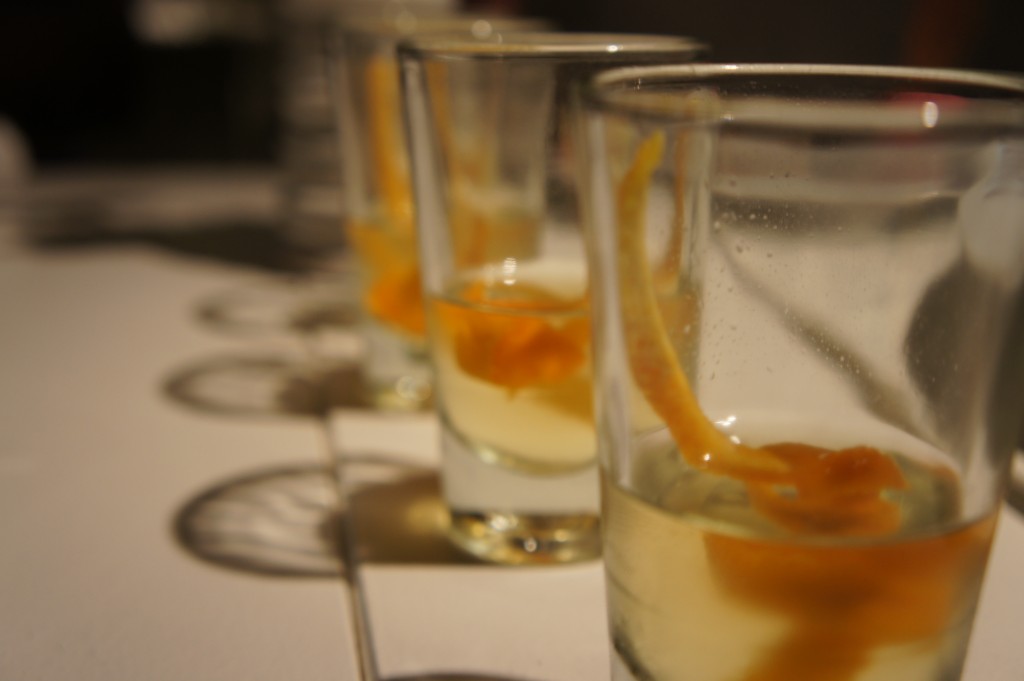 While most upscale dining establishments hide the chefs in a far away kitchen, White Modern Cuisine intentionally displays them through an open kitchen. We watched in awe as our chefs assembled each dish as though they were plated works of art.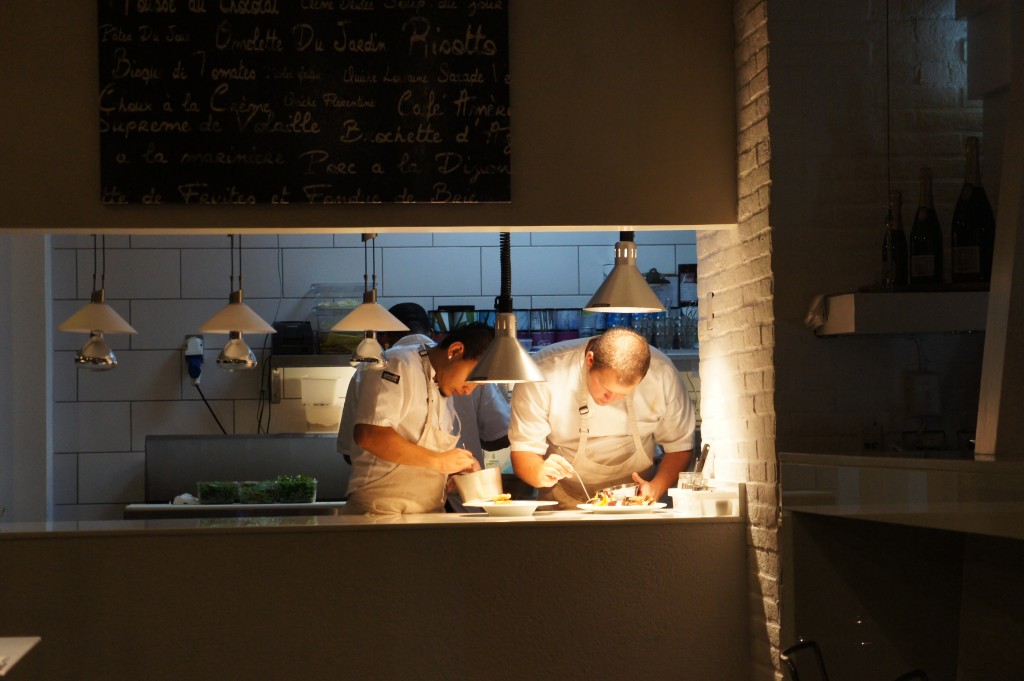 But don't just take my word for it. As you can see, the proof is in the pictures. Here are the Kurobuta Pork Loin and the Dorade Royale.
With our plates finally in front of us, it was amazing to see the words from the menu come to life as vibrant creations. Each dish was a beauty to behold. A rainbow of colors complemented each other like parts of a painting. But presentation was not at the expense of taste. The ingredients were fresh and the flavors were perfectly balanced.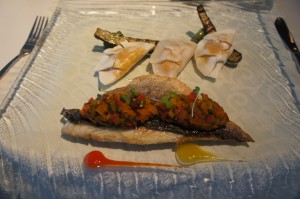 Dessert was prepared just as artfully. In dramatic flair, a substantial piece of angel cake was set before me then slowly doused in a strawberry consomme. Be warned, this dish was so delicious sharing was not permitted – we each had to order our own!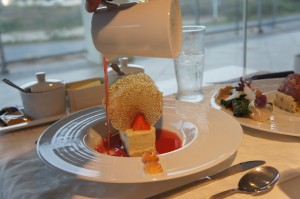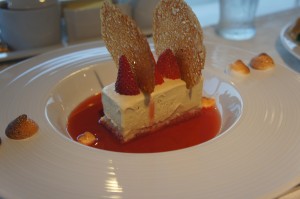 White Modern Cuisine truly deserves its title as best modern restaurant in Aruba. It is a a refreshing, modern and upscale alternative to Aruba's traditional restaurant scene and a sure bet for a unique meal on an island known for its cuisine.